Portland, Oregon
City in Oregon, United States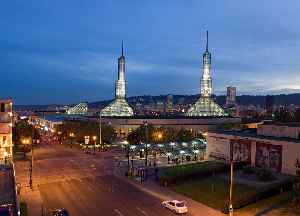 Portland is the largest and most populous city in the U.S. state of Oregon and the seat of Multnomah County. It is a major port in the Willamette Valley region of the Pacific Northwest, at the confluence of the Willamette and Columbia rivers. As of 2017, Portland had an estimated population of 647,805, making it the 26th most populated city in the United States, and the second-most populous in the Pacific Northwest. Approximately 2.4 million people live in the Portland metropolitan statistical area (MSA), making it the 25th most populous MSA in the United States. Its Combined Statistical Area (CSA) ranks 18th-largest with a population of around 3.2 million. Approximately 60% of Oregon's population resides within the Portland metropolitan area.


Did Thunder star Paul George violate an unwritten NBA rule during Game 3 vs. Blazers?
Baseball isn't the only sport with unwritten rules. Paul George tried to dunk at the final buzzer up 12 points against Portland. OK or not?
USATODAY.com - Published
Portland wins Game 1 against the Thunder 104-99
Damian Lillard scored 30 points and the third-seeded Portland Trail Blazers opened their playoff series against the No. 6 Oklahoma City Thunder with a 104-99 victory on Sunday
USATODAY.com - Published
Watch: Speedboat tears up flooded highway in Oregon, US
Aerial video from TV station KATU in Portland shows a boat speeding over a flooded highway in Corvallis, Oregon.
Credit: euronews (in English) Duration: 00:42Published
Funky Facts About Portland, OR
This city walks to the beat of its own drum and that is perhaps the best thing about it, here are some of the fun, funky things about Portland.
Credit: Wochit News Duration: 01:08Published
What Does Jusuf Nurkić's Injury Mean for Portland's Playoff Outlook?
Portland Trail Blazers center Jusuf Nurkić suffered a gruesome leg injury in Portland's double-overtime win over the Nets. With Nurkić out for the season with compound fractures to the tibia and..
Credit: Sports Illustrated Duration: 01:48Published
Jusuf Nurkic Suffers Horrific Injury
Late in the second overtime of Portland's win over the Brooklyn Nets, Trail Blazers center Jusuf Nurkic landed awkwardly on his left foot after jumping for an offensive rebound, and his lower leg..
Credit: Wochit News Duration: 00:33Published
Amtrak train freed after 37 hours in snowy Oregon
An Amtrak train with 183 passengers and crew on board was on its way back to civilization on Tuesday after it hit a fallen tree and was stranded in the snowy Oregon wilderness for about 37 hours,..
Credit: Reuters Studio Duration: 01:12Published
"Really Tragic and Totally Preventable:" Measles Outbreak Occurs In Oregon
According to Business Insider, Officials in Clark County, Washington — across the river from Portland, Oregon — have declared an emergency after identifying at least 65 cases of measles, most of..
Credit: Wochit News Duration: 00:43Published
Boat speeds over flooded Oregon highway
Heavy rain brought more flooding to areas of Oregon on Wednesday. Aerial video from TV Station KATU in Portland shows a boat speed over a flooded highway in Corvallis. More than 4 inches of rain have..
USATODAY.com - Published
Search this site and the web:
You Might Like