Ronnie Wood
British rock musician, member of The Rolling Stones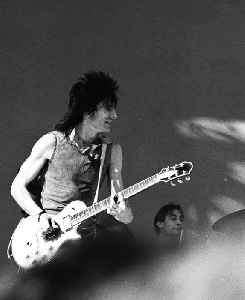 Ronald David Wood is an English rock musician, songwriter, multi-instrumentalist, artist, author and radio personality best known as a member of The Rolling Stones since 1975, as well as a member of Faces and the Jeff Beck Group.


Nasa names moving rock on Mars after Rolling Stones
Nasa has honoured the Rolling Stones by naming a small Martian rock after the London band. The US space agency decided to call the golf ball-sized rock 'Rolling Stones Rock' after it appeared to move..
WorldNews - Published
Jagger doing "really well' according to Ronnie Wood
Rolling Stones' guitarist Ronnie Wood has revealed that singer Mick Jagger is doing "really well" as he recovers from a heart operation. Jagger, who is 75, recently tweeted that he was "on the...
WorldNews - Published
Ronnie Wood sketches the hands of Rolling Stones
The guitarist turns artist with a new collection of four prints, each depicting the hands of one of his bandmates. Rough cut (no reporter narration).
Credit: Reuters Studio Duration: 01:16Published
Ronnie Wood's horse has shot at British Grand National run
Rolling Stones guitarist Ronnie Wood is hoping for a shot at winning the world's most grueling steeplechase with a not so wild horse
USATODAY.com - Published
Search this site and the web:
You Might Like