NHK
Japanese broadcasting company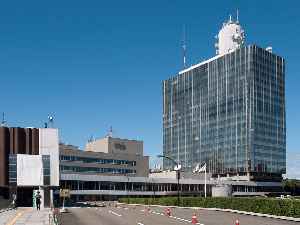 NHK
is Japan's national broadcasting organization. NHK, which has always been known by this romanized acronym in Japanese, is a publicly owned corporation funded by viewers' payments of a television license fee.
Notes of key aide show Hirohito's words of war remorse deleted
Emperor Hirohito sought to express his feelings of remorse over World War II in 1952 but was stopped from doing so by the prime minister of the time, newly disclosed documents show. That glimpse of his..
WorldNews - Published
G7 may end without communique due to gaps on trade, climate: NHK
The Group of Seven (G7) leaders summit to be held this weekend in France may end without a joint communique due to wide gaps between member nations on trade and climate issues, Japanese public..
Reuters - Published
Japan arson suspect bore grudge - police
As Japan mourns the 33 victims of the country's worst mass killing in two decades, police say the suspect torched the animation studio in Kyoto because he believed it had plagiarized his novel. Mia..
Credit: Reuters Studio Duration: 02:00Published
Japan mourns victims of suspected arson attack
Japanese police have identified the man suspected to have started a fire at an animation studio that killed 33 people as Shinji Aoba, public broadcaster NHK says. Michelle Hennessy reports.
Credit: Reuters Studio Duration: 01:21Published
Macron Urges World Powers To Restore Trust And Defuse Dangerous Tensions
According to a report by Reuters, on Wednesday, French President Emmanuel Macron said that Iran and world powers, including the United States, needed to find a way back into talks that restore trust..
Credit: Wochit News Duration: 00:42Published
Search this site and the web:
You Might Like