Arizona Diamondbacks
Baseball team and Major League Baseball franchise in Phoenix, Arizona, United States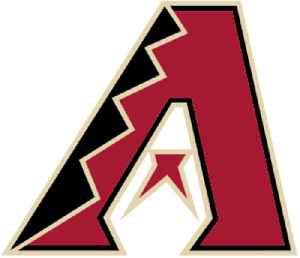 The Arizona Diamondbacks, often shortened as the D-backs, are an American professional baseball team based in Phoenix, Arizona. The club competes in Major League Baseball (MLB) as a member of the National League (NL) West division. The team has played every home game in franchise history at Chase Field, formerly known as Bank One Ballpark. The Diamondbacks have won one World Series championship – becoming the fastest expansion team in the Major Leagues to win a championship, which it did in only the fourth season since the franchise's inception. They remain the only professional men's sports team from Arizona to have won a championship title.


Marte homers twice, D-Backs win 9th straight at Pittsburgh
Ketel Marte homered twice and the Arizona Diamondbacks won at Pittsburgh for the ninth straight time, 11-2 over the Pirates
USATODAY.com - Published
Dyson's dive gets run on review, D-backs beat Pirates 2-1
Jarrod Dyson dived around catcher Francisco Cervelli but was only credited with the winning run after a replay review, and the Arizona Diamondbacks beat the Pittsburgh Pirates 2-1
USATODAY.com - Published
Charlotte Wilder Checks Out The Insane Hot Dogs The Diamondbacks Have At Chase Field
SI's Charlotte Wilder goes to Chase Field in Phoenix, Arizona to see what the Diamondbacks staff is stuffing into a hot dog bun.
Credit: Sports Illustrated Duration: 00:35Published
How the Arizona Diamondbacks' Second Language Speakers Learned to Speak English
A number of Arizona Diamondbacks didn't grow up speaking English. For those players, watching American television was instrumental in learning a second language.
Credit: Sports Illustrated Duration: 01:40Published
Pirates reliever Burdi injured; Arizona rallies for 12-4 win
Pittsburgh Pirates reliever Nick Burdi left in tears with a right-arm injury as the Arizona Diamondbacks rallied for a 12-4 victory
USATODAY.com - Published
Bote lifts Cubs past Diamondbacks 2-1
David Bote hits game-ending RBI single as Chicago Cubs top Arizona Diamondbacks 2-1
USATODAY.com - Published
Greinke dominates, Diamondbacks hit 3 HRs, beat Cubs 6-0
Zack Greinke pitched three-hit ball over six innings and the Arizona Diamondbacks supported him with three home runs in a 6-0 victory over the Chicago Cubs
USATODAY.com - Published
Red Sox trade Swihart to Arizona for minor leaguer
The Boston Red Sox have traded catcher/utilityman Blake Swihart to the Arizona Diamondbacks along international bonus pool space for minor league outfielder Marcus Wilson
USATODAY.com - Published
Jones' bases-loaded walk lifts D-backs over Braves 3-2 in 10
Adam Jones worked a bases-loaded walk against Jesse Biddle in the 10th inning and also homered, lifting the Arizona Diamondbacks over the Atlanta Braves 3-2
USATODAY.com - Published
Walker homers leading off 9th, D-Backs beat Braves 9-6
Christian Walker homered leader off the ninth and the Arizona Diamondbacks rallied against the shaky Atlanta bullpen for a 9-6 victory
USATODAY.com - Published
You Might Like