Idlib
Place in Idlib Governorate, Syria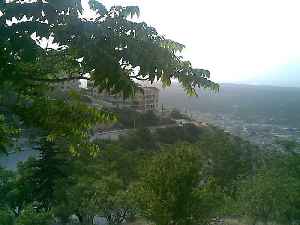 Idlib, a city in northwestern Syria, operates as the capital of the Idlib Governorate and stands 59 kilometers (37 mi) southwest of Aleppo. It has an elevation of nearly 500 meters (1,600 ft) above sea level. In the 2004 census by the Central Bureau of Statistics, Idlib had a population of 98,791 and in 2010 the population was around 165,000. Before the Syrian Civil War started in 2011, the inhabitants were mostly Sunni Muslims, although there was a significant Christian minority. Idlib is divided into six main districts: Ashrafiyeh, Hittin, Hejaz, Downtown, Hurriya, and al-Qusur.


Turkey sends weapons to rebels in Idlib
Amman - Turkey has equipped an array of mainstream Syrian rebels it backs with fresh supplies of weaponry to help them try to repel a major Russian-backed assault, senior opposition officials and rebel..
WorldNews - Published
U.S. envoy Jeffrey calls for ceasefire in Syria's Idlib
A ceasefire is needed in Syria's Idlib province, which has seen a recent upsurge in violence, and the United States is working toward a halt to the clashes, which have put tremendous pressure on..
Reuters - Published
Syria war: Rebels make gains against Syrian army
Turkey-Russian ties extend beyond Syria but Idlib is where they are bargaining and strengthening their negotiating hand.
Credit: Al Jazeera STUDIO Duration: 02:36Published
Syria bombings: UN says 'worst fears are coming true' in Idlib
Hospitals and schools bombed by Syrian forces aided by Russia, UN says, putting millions at risk in rebel stronghold.
Credit: Al Jazeera STUDIO Duration: 02:40Published
Syrian gov't 'seeking to sabotage' Turkey-Russia relations
Turkey's Erdogan says de-escalation deal signed with Russia at risk as Syrian government presses on with Idlib assault.
Credit: Al Jazeera STUDIO Duration: 02:47Published
Syrian Army Launches 'Intensive Strikes' On 'Terrorists' In Idlib Countryside
According to a report by CNN, on Sunday, the Syrian army launched 'intensive strikes on dens of Jabhat-al-Nusra,' a group formerly affiliated with al Qaeda, in a village in southwestern Idlib province...
Credit: Wochit News Duration: 00:40Published
Syrian troops capture strategic town from rebels: Residents
Assad government forces take the entire town of Qalaat al-Madiq in northwest Syria during rapid offensive in Idlib.
Credit: Al Jazeera STUDIO Duration: 02:57Published
'I can't express what I saw': Children killed in Idlib air raid
Activists say several civilians killed on Tuesday as government-led attacks intensify in Idlib, Hama provinces.
Credit: Al Jazeera STUDIO Duration: 02:41Published
Idlib air raids kill several amid heaviest fighting in months
Syrian government forces, Russia, bombard residential areas in suburbs of Idlib and Aleppo, activists and medics say.
Credit: Al Jazeera STUDIO Duration: 02:57Published
Dozens killed as Russian, Syrian air attacks in Idlib intensify
Escalation raises fears that a truce that lasted almost eight months in Idlib will be declared over.
Credit: Al Jazeera STUDIO Duration: 02:14Published
Syria joint patrols: Russia and Turkey announce Idlib deal
Erdogan travelled to Moscow to secure the purchase of Russia's S400 missile defense system.
Credit: Al Jazeera STUDIO Duration: 02:09Published
Russia says Syrian troops repelled three big militant attacks in Syria's Idlib
Syrian government troops on Wednesday morning repelled three big attacks by militants in Syria's Idlib province, the Russian Ministry of Defense said.
Reuters - Published
Turkey says it will not withdraw posts in Syria after government attacks
Turkey will not evacuate its military observation post in northern Syria's Idlib, the last rebel stronghold in the region, after a suspected Syrian government attack this month, Turkish Defence..
Reuters - Published
Fleeing into the fields, a family runs from Idlib attacks
Ali al-Ahmed and his family fled on foot through the fields when the bombs began raining down on their house in northwestern Syria, escaping a major offensive by the Syrian army and its Russian allies.
Reuters - Published
Search this site and the web:
You Might Like