Kansas City, Missouri
City in western Missouri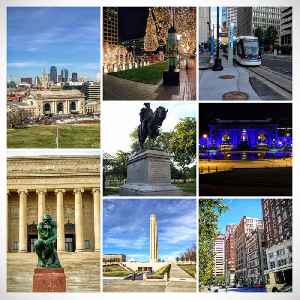 Kansas City is the largest city in the U.S. state of Missouri. According to the U.S. Census Bureau, the city had an estimated population of 488,943 in 2017, making it the 37th most-populous city in the United States. It is the central city of the Kansas City metropolitan area, which straddles the Kansas–Missouri state line. Kansas City was founded in the 1830s as a Missouri River port at its confluence with the Kansas River coming in from the west. On June 1, 1850 the town of Kansas was incorporated; shortly after came the establishment of the Kansas Territory. Confusion between the two ensued and the name Kansas City was assigned to distinguish them soon after.


Mariners set record with home run in 15 straight games to start 2019 season
Dee Gordon's sixth-inning homer in Kansas City marked the 15th game in a row to start 2019 that the Mariners had hit in a home run.
USATODAY.com - Published
Haniger HR lifts M's, Merrifield sets KC hit-streak mark
Mitch Haniger hit a tiebreaking homer with two outs in the ninth inning, lifting the Seattle Mariners over the Royals 6-5 after Whit Merrifield extended his hitting streak to a Kansas City-record 31..
USATODAY.com - Published
Nebraska's Devastating Floods Will Force Workers To Leave The Midwest In Droves
Midwestern cities not only saw hiring decrease in March due to natural disaster, workers are also expected to migrate out of the area at high rates. According to LinkedIn's Workforce Report for April..
Credit: Wochit News Duration: 00:54Published
More Flooding Possible As Waters Recede In Midwest
According to Reuters, the massive flooding that submerged parts of three Midwestern states has begun to recede in Kansas City. The National Weather Service, however, warns that Montana and the Dakotas..
Credit: Wochit News Duration: 00:39Published
Record Flood Recedes Near Kansas City
KANSAS CITY, Mo. (Reuters) - Record flooding along the Missouri River that left death and destruction in three Midwestern states appeared to have crested on Sunday in the Kansas City area without..
Credit: Wochit News Duration: 00:38Published
Flooding Contaminates Water For Kansas City Residents
Reuters reports record flooding along the Missouri River has impaired treatment of drinking supplies in Kansas City, Missouri. The municipal water service warned the public on Saturday, saying the..
Credit: Wochit News Duration: 00:34Published
Kansas City Issues Warning About Water Treatment Issues Caused By Flooding
According to a report by Reuters, record flooding along the Missouri River caused by rain and melting snow have now impacted water treatment in the Kansas City, Missouri area, as the city's water..
Credit: Wochit News Duration: 00:50Published
Missouri Threatened By Flooding
KANSAS CITY, Mo. (Reuters) - Frigid floodwaters pushing down the Missouri River left ruins, death and drowned livestock in their wake across the U.S. Midwest's farmland, and were expected to crest in..
Credit: Wochit News Duration: 00:38Published
Missouri confronts historic flooding
Residents and authorities in Holt County, Missouri, are faced with a massive recovery effort amid historic flooding that has destroyed homes and lives. Rough Cut (no reporter narration).
Credit: Reuters Studio Duration: 00:55Published
Deadly floods in Midwest cause widespread damage
More rain this week could worsen the already devastating floods in the Midwest that have killed at least four people, and inundated stretches of Nebraska and Iowa along the Missouri River. Jillian..
Credit: Reuters Studio Duration: 01:13Published
U.S. Floods Kill Three
(Reuters) - Floodwaters continued to rise in the U.S. Midwest on Monday and were not expected to crest for another 24 hours, forecasters said, after killing three people in Nebraska and Iowa and..
Credit: Wochit News Duration: 00:31Published
Chiefs WR Tyreek Hill Under Investigation For Alleged Battery
Kansas City police are looking into an alleged battery incident involving Chiefs wide receiver Tyreek Hill.
Credit: Sports Illustrated Duration: 00:44Published
Search this site and the web:
You Might Like