Mount Everest
Earth's highest mountain, part of the Himalaya between Nepal and China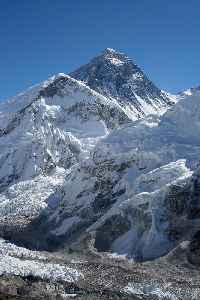 Mount Everest, known in Nepali as Sagarmatha (सगरमाथा) and in Tibetan as Chomolungma (ཇོ་མོ་གླང་མ), is Earth's highest mountain above sea level, located in the Mahalangur Himal sub-range of the Himalayas. The international border between Nepal and China runs across its summit point.


Nepal plane hits parked helicopter while taking off, killing three
A small plane operated by a private airline in Nepal hit a parked helicopter on Sunday while preparing to take off in a mountainous area near Mount Everest, killing three people including a co-pilot,..
Reuters - Published
Search this site and the web:
You Might Like