The Times
British daily compact newspaper owned by News UK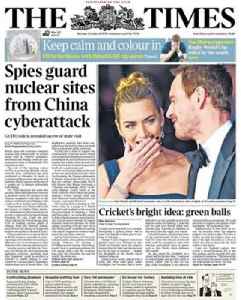 The Times is a British daily national newspaper based in London. It began in 1785 under the title The Daily Universal Register, adopting its current name on 1 January 1788. The Times and its sister paper The Sunday Times are published by Times Newspapers, since 1981 a subsidiary of News UK, itself wholly owned by News Corp. The Times and The Sunday Times do not share editorial staff, were founded independently, and have only had common ownership since 1967.


UK's Javid to see PM May over her Brexit deal: political editors
Britain's interior minister Sajid Javid has asked to see Prime Minister Theresa May, the political editors of the Times and the BBC reported on Wednesday, possibly spelling the end of her premiership..
Reuters - Published
'They Were Conned': How Reckless Loans Devastated a Generation of Taxi Drivers
Thousands of immigrants who were chasing the dream of owning a New York taxi were trapped in reckless loans by bankers who made huge profits, The Times found.
NYTimes.com - Published
Trump Administration Looking To Change Asylum Screening
It reportedly wants to push for changes to the "credible fear" interview process that some asylum-seekers are required to go through.
Credit: Newsy Studio Duration: 01:11Published
UK PM May under pressure to go for soft Brexit
Britain's exit from the European Union was in disarray after the implosion of Prime Minister Theresa May's Brexit strategy left her under pressure from rival factions to leave without a deal, go for an..
Credit: Reuters Studio Duration: 01:36Published
Around 40 Lawmakers Switch to Support PM May's Brexit Deal
According to Reuters, around 40 lawmakers have switched to supporting British Prime Minister Theresa May's Brexit divorce deal but around 40 are still undecided. Sam Coates, The Times' deputy..
Credit: Wochit News Duration: 00:42Published
Boris Johnson Will Now Back UK PM May's Brexit deal
Boris Johnson, former British foreign minister and prominent eurosceptic, will now back Prime Minister Theresa May's Brexit deal after she promised to quit if it passes, the deputy political editor..
Credit: Wochit News Duration: 00:33Published
U.K. PM May's Party Slumps to Fifth Place as Pressure Mounts
British Prime Minister Theresa May's Conservatives have slumped to fifth place in an opinion poll ahead of the May 23 European parliamentary election as pressure grows for her to set a date for her..
WorldNews - Published
Search this site and the web:
You Might Like