Landslide
Type of natural disasters involving ground movements, often caused by slope instability triggered by specific event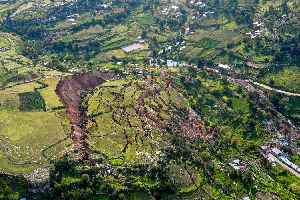 The term landslide or less frequently, landslip, refers to several forms of mass wasting that may include a wide range of ground movements, such as rockfalls, deep-seated slope failures, mudflows, and debris flows. However, influential narrower definitions restrict landslides to slumps and translational slides in rock and regolith, not involving fluidisation. This excludes falls, topples, lateral spreads, and mass flows from the definition.


You Might Like
AP Top Stories February 17 P
Here's the latest for Monday, February 17th: Cruise ships passengers taken to Nebraska for quarantine; Pompeo on Africa visits; Landslide destroys Tennesee homes; Iconic Plymouth Rock vandalized.  
USATODAY.com - Published
Search this site and the web: