Slovakia
Republic in Central Europe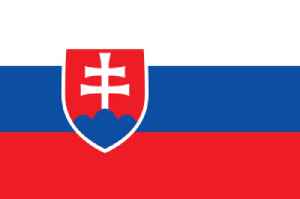 Slovakia, officially the Slovak Republic, is a landlocked country in Central Europe. It is bordered by Poland to the north, Ukraine to the east, Hungary to the south, Austria to the west, and the Czech Republic to the northwest. Slovakia's territory spans about 49,000 square kilometres (19,000 sq mi) and is mostly mountainous. The population is over 5.4 million and consists mostly of Slovaks. The capital and largest city is Bratislava, and the second largest city is Košice. The official language is Slovak.


Anti-graft campaigner wins first round of Slovak presidential vote
Zuzana Caputova, an anti-corruption campaigner with no experience in public office, won the first round of Slovakia's presidential election on Saturday, setting up a tough clash with the ruling Smer..
Reuters - Published
Also reported by •Firstpost
Anti-graft campaigner Caputova leads Slovak presidential election first round
Anti-corruption campaigner Zuzana Caputova led Slovakia's presidential election first round with 38.9 percent of votes after results from a fifth of polling stations were counted, statistics office..
Reuters - Published
Slovakian President Hopeful Has No Public Office Experience
Zuzana Caputova's first foray into politics is as a presidential candidate and possible winner.
Credit: Newsy Studio Duration: 00:51Published
Juncker on Brexit: This was a second chance, but there won't be a third one
European Commission president Jean-Claude Juncker discusses his talks with Theresa May during a debate on the future of Europe with Peter Pelligrini, the prime minister of Slovakia.
Credit: PA - Press Association STUDIO Duration: 01:06Published
Poland pulls out of Israel summit in row over WW2 role
Poland pulled out of a planned summit in Israel after Israel's acting foreign minister said on Monday that "many Poles" had collaborated with the Nazis in World War Two and shared responsibility..
Credit: Reuters Studio Duration: 02:09Published
Pompeo arrives in Slovakia
The United States Secretary of State continued his visit to Central Europe visiting the Slovakian capital of Bratislava on Tuesday. Rough cut (no reporter narration)
Credit: Reuters Studio Duration: 00:50Published
Pompeo says U.S. too absent from central Europe
The United States should not let Russian President Vladimir Putin 'drive a wedge between friends and NATO', Secretary of State Mike Pompeo said on Monday. Lisa Bernhard reports.
Credit: Reuters Studio Duration: 01:03Published
Pompeo meets Hungarian FM during central Europe trip
U.S. Secretary of State Mike Pompeo met Hungarian Foreign Minister, Peter Szijjarto on Monday, part of a tour of central and eastern European allied states. Rough cut (no reporter narration)
Credit: Reuters Studio Duration: 00:33Published
Pompeo To Address Huawei Situation During Trip To Hungary, Slovakia And Poland
U.S. Secretary of State Mike Pompeo will voice concerns about the growing presence of China's Huawei Technologies in central Europe when he visits Hungary, Slovakia and Poland next week, a senior..
Credit: Wochit News Duration: 01:00Published
Slovakia Declines To Support Venezuela's Guiado, Joining Italy
According to a report by Reuters, on Wednesday, Slovakia declined to recognize opposition leader Juan Guaido as Venezuela's legitimate head of state, joining Italy in breaking the coordinated action of..
Credit: Wochit News Duration: 00:40Published
Unions say support growing for Audi Hungary strike; Audi's German production hit too
Support for a strike that last week shut Audi's massive Hungarian plant increased over the weekend, according to unions. As David Pollard reports, the disruption in supplies has also led to a halt in..
Credit: Reuters Studio Duration: 01:37Published
Slovakia Could Get Its First Woman President in Ballot
Slovakia could get its first woman president as voters elect a new head of state on Saturday. The leading contenders are Zuzana Caputova, an environmental activist who is in favor of gay rights and..
WorldNews - Published
Slovakia charges man with ordering journalist Kuciak's murder
Slovak police have charged a man with ordering the murder of investigative journalist Jan Kuciak and his fiancee, prosecutors said on Thursday, a case that triggered mass protests and the resignation..
Reuters - Published
Suspect charged with ordering killing of Slovak reporter
BRATISLAVA, Slovakia (AP) — Slovakia's police say they have charged a suspect with ordering the slaying of an investigative reporter and his fiancee, a case that brought down the Slovak...
WorldNews - Published
Jan Kuciak: Slovak man charged over double murder
The murder of Jan Kuciak and his fiancée last year triggered mass protests in Slovakia.
BBC News - Published
First Wales call-up for Rotherham's Vaulks
Rotherham midfielder Will Vaulks earns a first call-up to the Wales squad for March's matches against Trinidad and Tobago and Slovakia.
BBC News - Published
You Might Like