Jon Stewart
American political satirist, writer, television host, actor, media critic and stand-up comedian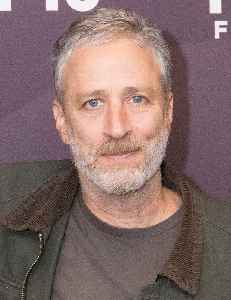 Jon Stewart is an American comedian, writer, producer, director, activist, political commentator, actor, and television host. He hosted The Daily Show, a satirical news program on Comedy Central, from 1999 to 2015.


Jon Stewart Says Rand Paul's Block Of 9/11 Compensation Funding Bill Is 'An Abomination'
Former host of The Daily Show turned 9/11 first responder advocate blasted Sen.Rand Paul after he blocked a vote to permanently reauthorize the 9/11 Victims Compensation Fund on Thursday, according to..
WorldNews - Published
Jon Stewart rips "no" vote on 9/11 bill as another first responder dies
"Pardon me if I'm not impressed in any way by Rand Paul's fiscal responsibility virtue signaling, Stewart said of Paul's block
CBS News - Published
House approves funding for 9/11 responders
The U.S. House of Representatives on Friday approved legislation to permanently compensate first responders to the Sept. 11, 2001 attacks on the World Trade Center who have been suffering from cancers..
Credit: Reuters Studio Duration: 00:47Published
Jon Stewart Responds To Mitch McConnell Over 9/11 First Responders
Jon Stewart recently called out Mitch McConnell for waiting to offer relief to those who showed up at Ground Zero. McConnell then responded by wondering why Stewarts is "all bent out of shape." He..
Credit: Wochit News Duration: 00:32Published
Jon Stewart Slams 'Shameful' US Congress In D.C.
According to CNN, Jon Stewart testified before Congress on behalf of 9-11 first responders. During a House Judiciary Committee hearing the former late night host chastised congressional members for..
Credit: Wochit News Duration: 00:45Published
Jon Stewart Rips Members Of Congress Who Failed To Show Up To A 9/11 First Responders Support Hearing
Jon Stewart: "What an incredible metaphor this room is for the entire process that getting healthcare and benefits for 9/11 first responders has come to. Behind me, a filled room of 9/11 first..
Credit: Wochit News Duration: 00:59Published
'It's absolutely outrageous': Jon Stewart slams Rand Paul for delaying 9/11 first responder bill
Sen. Rand Paul, R-Ky., objected to the projected cost of the bill that would reauthorize the 9/11 first responders compensation fund.
USATODAY.com - Published
Search this site and the web:
You Might Like