East Java
Province of Indonesia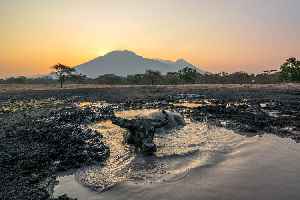 East Java is a province of Indonesia. It has a land border only with the province of Central Java to the west; the Java Sea and the Indian Ocean border its northern and southern coasts, respectively, while the narrow Bali Strait to the east separates Java from Bali. Located in eastern Java, it also includes the island of Madura, which is connected to Java by the longest bridge in Indonesia, the Suramadu Bridge, as well as the Kangean and Masalembu archipelagos located further east and north, respectively. Its capital is Surabaya, the second largest city in Indonesia, a major industrial center and also a major business center. Banyuwangi is the largest regency in East Java and the largest on the island of Java.


You Might Like
Covid 19 coronavirus: Anti-maskers forced to dig graves for virus victims in Indonesia
Indonesian authorities have ordered a group of anti-maskers who broke the country's mask laws to dig graves for Covid-19 victims.East Java province officials punished eight mask violaters with manual..
New Zealand Herald - Published
How to book Mount Bromo tour from Surabaya, Malang, Banyuwangi
If You are the first time want to explore Mount Bromo Indonesia, You will think about How to book Mount Bromo tour from Surabaya, Malang, Banyuwangi. We are the travel agent in East Java Island have..
WorldNews - Published
What things must bring before visit Mount Bromo
https://2.bp.blogspot.com/-I3rBQ98lpRU/WeEOXyRBI6I/AAAAAAAAF40/DZf5HcMUi08mtZje67Jjq8deALbgldLrQCLcBGAs/s1600/Mount%2BBromo%2BTour%2BPackage%2B2%2BDays%2B1%2BNight.jpg Mount Bromo is the most popular..
WorldNews - Published
The village surviving a drought on cave water
In Indonesia's East Java province, government water trucks only deliver once or twice a month.
BBC News - Published
Suspected Islamic militant shot after slashing Indonesian police officer with sickle in Independence Day attack
A suspected Islamic militant in Indonesia has launched an attack on a police station, slashing one officer with a sickle, before being shot and taken into custody, officials said on Sunday.The..
WorldNews - Published
Indonesian Environmentalist Walking Length Of Java Backwards In Bid To Save Rainforests
A man from a village in East Java has embarked on an unconventional mission to raise awareness about preserving forests: he is walking 800 kilometers (500 miles) to Indonesia's capital, backwards,..
WorldNews - Published
Earthquake in Indonesia: Strong Quake of Magnitude 5.7 Hits Bali Region
Jakarta, July 16: A strong earthquake of magnitude of 5.7 on the Richter Scale hit Indonesia on Tuesday. Authorities say a subsea earthquake shook Bali, Lombok and East Java but didn't have the..
WorldNews - Published