Harriet Tubman
African-American abolitionist and humanitarian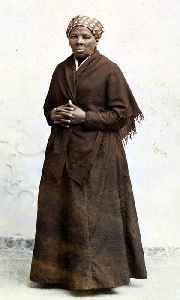 Harriet Tubman was an American abolitionist and political activist. Born into slavery, Tubman escaped and subsequently made some thirteen missions to rescue approximately seventy enslaved people, family and friends, using the network of antislavery activists and safe houses known as the Underground Railroad. She later helped abolitionist John Brown recruit men for his raid on Harpers Ferry. During the American Civil War, she served as an armed scout and spy for the United States Army. In her later years, Tubman was an activist in the struggle for women's suffrage.


Iran, Democratic Debate, Harriet Tubman: Your Friday Evening Briefing
Here's what you need to know at the end of the day.
NYTimes.com - Published
The Harriet Tubman $20 Bill Was Far Along Before Mnuchin Delayed Work
A previously unreleased design concept made by the Bureau of Engraving and Printing in late 2016 reveals what a Harriet Tubman $20 bill might look like.
NYTimes.com - Published
U.S. Treasury End Plan To Add Harriet Tubman To Currency
Treasury Secretary Steven Mnuchin announced on Wednesday that the treasury will not introduce a redesigned $20 bill picturing escaped slave and abolitionist Harriet Tubman next year as planned. Reuters..
Credit: Wochit News Duration: 00:59Published
Search this site and the web:
You Might Like