Fidel Castro
Former First Secretary of the Communist Party and President of Cuba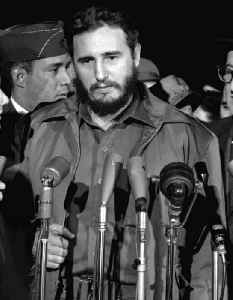 Fidel Alejandro Castro Ruz was a Cuban communist revolutionary and politician who governed the Republic of Cuba as Prime Minister from 1959 to 1976 and then as President from 1976 to 2008. A Marxist–Leninist and Cuban nationalist, Castro also served as the First Secretary of the Communist Party of Cuba from 1961 until 2011. Under his administration, Cuba became a one-party communist state, while industry and business were nationalized and state socialist reforms were implemented throughout society.


Trump lifts ban on U.S. lawsuits against foreign firms in Cuba
The Trump administration is lifting a long-standing ban against U.S. citizens filing lawsuits against foreign companies that use properties seized by Cuba's Communist government since Fidel..
Reuters - Published
U.S. allowing lawsuits over properties seized by Castro's Cuba
The major policy has angered European and other allies
CBS News - Published
US to Let Americans Sue Companies Doing Business in Cuba
Americans who had property confiscated by Cuba after the 1959 revolution will soon be allowed to sue.
Credit: Newsy Studio Duration: 01:48Published
Cuba to Vote On Constitutional Referendum
The vote's ​being viewed as a flash point for Cubans' thoughts on their single-party, socialist system.
Credit: Newsy Studio Duration: 00:36Published
U.S. To Allow Lawsuits Against Firms Doing Business In Cuba
The Trump administration will allow lawsuits in U.S. courts for the first time against foreign companies that use properties Communist-ruled Cuba confiscated since Fidel Castro's revolution six..
WorldNews - Published
Search this site and the web:
You Might Like