Homelessness
Living in housing that is below standard or nonexistent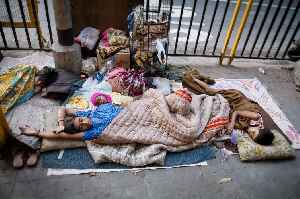 Homelessness is defined as living in housing that is below the minimum standard or lacks secure tenure. People can be categorized as homeless if they are: living on the streets ; moving between temporary shelters, including houses of friends, family and emergency accommodation ; living in private boarding houses without a private bathroom or security of tenure. The legal definition of homeless varies from country to country, or among different jurisdictions in the same country or region. According to the UK homelessness charity Crisis, a home is not just a physical space: it also provides roots, identity, security, a sense of belonging and a place of emotional wellbeing. United States government homeless enumeration studies also include people who sleep in a public or private place not designed for use as a regular sleeping accommodation for human beings.People who are homeless are most often unable to acquire and maintain regular, safe, secure and adequate housing due to a lack of, or an unsteady income. Homelessness and poverty are interrelated. There is no methodological consent on counting the homeless and identifying their special needs, therefore in most of the cities only estimated homeless population is known.


You Might Like
'Homelessness could happen to anybody'
Simon and Lawrence spent time sleeping rough and feared being cold and being robbed.
BBC News - Published
In College and Homeless
At community colleges, many students are spending nights on friends' couches or sleeping in cars. Advocates are pushing for solutions, including safer places to park overnight.
NYTimes.com - Published
In California: Homelessness, Trump's big-ticket fundraiser and a prison proposal shut down
Gov. Gavin Newsom uses his State of the State to zero in on homelessness right around the same time President Trump arrives at the desert and a big-ticket fundraiser. Also, Kobe fans: He isn't buried..
USATODAY.com - Published
As Homelessness Plagues Los Angeles, Success Comes for Veterans
In California's biggest city, a nearly 400-acre campus with new housing represents one of the country's most ambitious plans to address veteran homelessness.
NYTimes.com - Published
Homeless, They Searched for Steady Work. They Found It: Evicting Others.
As rents skyrocket, more homeless people are trying to find work, even if it means becoming part of the process that forces people out of their homes.
NYTimes.com - Published
Democratic 2020 field opposes Las Vegas law banning sleeping on sidewalks
Homelessness activists say the new ordinance is "criminalizing homelessness." Several of the 2020 Democratic presidential contenders denounced the measure
CBS News - Published
Harry Styles stalker: Homeless man told to keep away from star
The former One Direction star says Pablo Tarazaga-Orero's behaviour left him feeling "scared".
BBC News - Published
9/30: CBS Evening News
Rudy Giuliani subpoenaed by House committees; Homeless woman singing in the L.A. Metro goes viral
CBS News - Published
Trump Eyes Crackdown on Homelessness as Aides Visit California
The president is pushing his administration to address surging homelessness in liberal cities he loves to hate, like Los Angeles. But his powers are limited.
NYTimes.com - Published
Homelessness was not on my vision board: How one man clawed his life back
Allan Connolly faced the unthinkable. He's been to hell and back and dragged his family back from the brink. Now he has a favour to ask. And it's dead simple.
The Age - Published
Homelessness at an all-time high in Los Angeles
Homelessness is at an all-time high in Los Angeles, affecting nearly every neighborhood. One factor is the high cost of living. Jamie Yuccas reports.
CBS News - Published
1/14: CBSN AM
Historic shutdown closing airport terminals; Homeless man helps Chiefs player reach playoff game
CBS News - Published