Shanghai
Municipality in People's Republic of China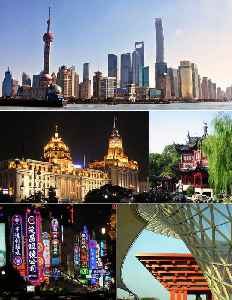 Shanghai is one of the four municipalities under the direct administration of the central government of the People's Republic of China, the largest city in China by population, and the largest city proper in the world, with a population of 26.3 million as of 2019. It is a global financial center and transport hub, with the world's busiest container port. Located in the Yangtze River Delta, it sits on the south edge of the estuary of the Yangtze in the middle portion of the Eastern China coast. The municipality borders the provinces of Jiangsu and Zhejiang to the south, east and west, and is bound to the east by the East China Sea.


Asian stocks mixed after Wall Street fall on Huawei anxiety
BEIJING (AP) — Asian stocks were mixed Tuesday after anxiety over U.S. restrictions on sales to Chinese tech giant Huawei pulled Wall Street lower. Benchmarks in Shanghai, Seoul and Sydney advanced,..
WorldNews - Published
Asian shares feeling blue as Shanghai turns red
Asian shares were struggling to end a bleak week in the black on Friday as upbeat U.S. economic news and solid company earnings offered only a fleeting respite from the interminable Sino-U.S. trade..
Reuters - Published
HSBC plans more China tech jobs in push for market share
HSBC plans to add more than a 1,000 jobs this year at its technology development centres in China, as the Asia-focused lender seeks to bolster its presence in the world's second largest economy. David..
Credit: Reuters Studio Duration: 01:00Published
Shares swoon as Beijing ramps up war of words
EasyJet shares lift off on Europe's markets on a day when, otherwise, the main benchmarks sink again as trade worries bite. David Pollard reports.
Credit: Reuters Studio Duration: 01:30Published
Wall Street slips as energy shares weigh
U.S. stocks eased further from recent record highs on Thursday as investors digested comments from Fed Chairman Jerome Powell the previous day that dampened some investor hopes of an interest rate cut..
Credit: Reuters Studio Duration: 01:06Published
Automakers see positives despite Chinese downturn
China's biggest auto show is underway this week in Shanghai, and despite recent gloomy economic data out of China, automakers say they still see an opportunity in the world's biggest auto market. Ed..
Credit: Reuters Studio Duration: 02:33Published
Infiniti launches electric concept, says first battery-driven model to be ready in three years
Infiniti, the premium brand of Nissan Motor, launched an electric concept sedan named the Qs Inspiration at this week's 2019 Shanghai Auto Show in China. Rough cut (no reporter narration).
Credit: Reuters Studio Duration: 00:31Published
Shanghai motor show: Electric vehicles take centre stage
The race for electric vehicle dominance in China will come down to whose batteries last the longest.
Credit: Al Jazeera STUDIO Duration: 02:37Published
Valtteri Bottas Loses Chinese GP To Lewis Hamilton
The Formula E team - and driver - resetting in Rome Hamilton beats Bottas to win F1's 1000th race Promoted: Leclerc takes on world champion speed skater Raikkonen: F1 more of a fun hobby now Monza..
Credit: Wochit News Duration: 00:34Published
Formula One's 1000 races in numbers
The 1,000th Formula One world championship race takes place in Shanghai, China, this weekend. We take a look at the key numbers ahead of the landmark grand prix.
Credit: PA - Press Association STUDIO Duration: 00:48Published
"It's not really any different", says Hamilton on eve of 1,000th GP
Lewis Hamilton says he is in China "to do a job" and is not concerned with Sunday's Chinese Grand Prix milestone 1000th race
Credit: Reuters - Sports Duration: 01:17Published
Shanghai Firefighters Rescue Survivors From Deadly Building Collapse
Firefighters rescued more than 20 people from the ruins of a former car repair plant that collapsed in the Changning district of Shanghai on May 16. The building had been undergoing renovations...
WorldNews - Published
Five dead in building collapse in China's Shanghai
Five people were killed when a building undergoing renovation collapsed in China's financial hub of Shanghai on Thursday, though 14 people were pulled from the rubble alive by rescuers.
Reuters - Published
Eleven pulled alive from rubble in China building collapse
Rescue services pulled out 11 people alive from a collapsed building in China's financial hub of Shanghai on Thursday, and about same number are believed to be still trapped in the rubble.
Reuters - Published
Search this site and the web:
You Might Like