Group of Seven (artists)
Group of Canadian landscape painters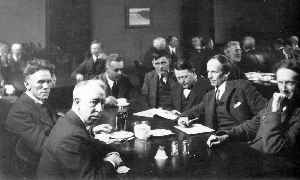 The Group of Seven, also sometimes known as the Algonquin School, was a group of Canadian landscape painters from 1920 to 1933, originally consisting of Franklin Carmichael (1890–1945), Lawren Harris (1885–1970), A. Y. Jackson (1882–1974), Frank Johnston (1888–1949), Arthur Lismer (1885–1969), J. E. H. MacDonald (1873–1932), and Frederick Varley (1881–1969). Later, A. J. Casson (1898–1992) was invited to join in 1926, Edwin Holgate (1892–1977) became a member in 1930, and LeMoine FitzGerald (1890–1956) joined in 1932.


UK loses faith in government over virus: poll

While confidence in governments is sliding among almost all of the world's economies, a new poll found the British public to be the most skeptical about their leaders. Adam Reed reports.
Credit: Reuters Studio Duration: 01:09
Published
You Might Like



China says it expressed grave concerns to Japan over Abe's HK remarks

China said on Wednesday it expressed grave concerns to Japan after Japanese Prime Minister Shinzo Abe said Tokyo wants to take the lead among the Group of Seven nations to issue a statement about the..




Reuters - Published





France sees no change in Russia warranting reintegration to G7: Elysee official

France sees no change in the situation in Russia that would warrant a reintegration of Moscow to the Group of Seven, an Elysee official said on Wednesday.




Reuters - Published





Trump says it's 'common sense' to include Russia in G7

U.S. President Donald Trump on Wednesday said it was "common sense" to invite Russian President Vladimir Putin to rejoin the Group of Seven, saying it would be much easier to solve various issues if..




Reuters - Published





Trump says inviting Russia to G7 is 'common sense': Fox News Radio

U.S. President Donald Trump on Wednesday said it was "common sense" to invite Russian President Vladimir Putin to the Group of Seven, saying it would be much easier to solve various issues if Putin was..




Reuters - Published





Germany: Doubt if now is right time to change G7 format

German Foreign Minister Heiko Maas said on Wednesday he was not sure whether now was the right time to shake up the format of the Group of Seven after U.S. President Donald Trump said it was a "very..




Reuters - Published





Japan has no position yet on Trump's plan to expand G7 summit

Japan has not yet established its position on a U.S. proposal for adding countries to the Group of Seven summit to be held later this year, Finance Minister Taro Aso said on Wednesday.




Reuters - Published





EU says Russia should not yet rejoin G7, despite Trump plan

BRUSSELS (AP) — The European Union on Tuesday joined a growing chorus of members of the Group of Seven major economic powers to insist that Russia must not be allowed back into the fold, after U.S...




WorldNews - Published





EU balks at adding Russia back into G7

The European Union views the Group of Seven format as a vital multilateral framework that cannot be changed on a permanent basis by the chair of the group, currently the United States, an EU spokesman..




Reuters - Published





Russia not welcome at G7, Canada's Trudeau says

Canada does not support Russia's return to the Group of Seven, proposed by U.S. President Donald Trump over the weekend, because Moscow continues to flout international law, Prime Minister Justin..




Reuters - Published





Canada says Russia should remain outside of the G7: PM Trudeau

Canada does not support Russia's return to the Group of Seven, as U.S. President Donald Trump proposed over the weekend, because it continues to flout international law, Prime Minister Justin Trudeau..




Reuters - Published





Japan stunned again by Trump's G-7 summit postponement

In another sudden turn of events, Japanese officials were surprised by the announcement that U.S. President Donald Trump has postponed the Group of Seven summit to be held near Washington, D.C., in..




WorldNews - Published





Trump postpones G7 summit, seeks to add countries to invitation list

U.S. President Donald Trump said on Saturday he would postpone a Group of Seven summit he had hoped to hold next month until September or later and expand the list of invitees to include Australia,..




Reuters India - Published

Also reported by •Reuters


Merkel a 'no' for Trump's in-person G7 summit owing to pandemic worries

German Chancellor Angela Merkel will not attend an in-person summit of G7 leaders that US President Donald Trump has suggested he will host despite concerns over the coronavirus pandemic, a German..




WorldNews - Published





France's Macron open to travelling to U.S. for G7 if epidemic allows

French President Emmanuel Macron is open to travelling to the United States for an in-person meeting of Group of Seven leaders if the coronavirus epidemic situation allows, an Elysee official said on..




Reuters - Published





Japan's Motegi wants to discuss international cooperation to prevent coronavirus spread at G7 call

Japanese Foreign Minister Toshimitsu Motegi said on Tuesday that he would like to discuss international cooperation to prevent the spread of the coronavirus at the Group of Seven foreign ministers..




Reuters - Published





U.S. cuts rates over coronavirus; G7 pledges action but no quick fix

The U.S. Federal Reserve cut interest rates on Tuesday in an emergency move to shield the world's largest economy from the impact of the coronavirus, as Group of Seven finance officials pledged..




Reuters - Published




U.S. cuts rates as G7 pledges to fight coronavirus

The U.S. Federal Reserve cut interest rates on Tuesday in an emergency move to shield the world's largest economy from the impact of the coronavirus, as Group of Seven finance officials pledged..




Reuters - Published




G7 to deploy all policy tools to combat coronavirus

Group of Seven finance officials said on Tuesday they would use all appropriate policy tools to achieve strong, sustainable global growth and safeguard against downside risks posed by the..




Reuters - Published




G7 finance officials pledge all possible steps to beat coronavirus

Group of Seven finance officials said on Tuesday they would take all possible steps to safeguard the global economy from the spreading coronavirus outbreak, with Bank of Japan Governor Haruhiko Kuroda..




Reuters - Published




World finance officials plot 'powerful and timely' response to beat coronavirus

Group of Seven officials will discuss ways to bolster their economies against the impact of the spreading coronavirus outbreak on Tuesday, but are not expected to call for new spending or coordinated..




Reuters - Published




Global shares extend recovery on hopes of policy easing, eye G7 for cues

Global stocks and oil prices extended gains on Tuesday as policymakers indicated their willingness to help ease the economic fallout from the coronavirus, while worries about the outcome of a call by..




Reuters - Published




Global shares extend rebound on hopes of G7 support

Global shares and oil prices extended their rebound on Tuesday on mounting speculation policymakers around the world would move to ease the economic fallout from the spreading coronavirus, ahead of a..




Reuters - Published





G7 health ministers agree on coordinated approach to coronavirus - Germany

Health ministers from the Group of Seven leading industrial nations agreed to coordinate their response to dealing with the coronavirus in a conference call on Monday, the German Health Ministry said.




Reuters - Published




White House: Summit at Trump Property Would Look 'Lousy'

President Donald Trump dropped plans to hold an international summit at his Doral resort in Florida after realizing "it looks lousy" to steer business to his own property, his acting chief of staff..




WorldNews - Published





Surprised over Doral flap, Trump thinks he's still in hospitality business: Mulvaney

U.S. President Donald Trump was surprised at the resistance to his now-revoked decision to host next year's Group of Seven summit at his Florida golf resort, his acting chief of staff said on Sunday,..




Reuters - Published





Trump drops plan to host G-7 at his Doral golf resort

WASHINGTON (AP) — Responding to stinging criticism, President Donald Trump has abruptly reversed his plan to hold the next Group of Seven world leaders' meeting at his Doral, Florida, golf resort..




WorldNews - Published





Facebook's Libra cryptocurrency faces new hurdle from G7 nations

Facebook's plans to launch its Libra cryptocurrency faced a new hurdle on Thursday when the Group of Seven wealthy nations said such "stablecoins" should not be allowed to launch until the profound..




WorldNews - Published

Also reported by •Reuters


Trump to host G7 summit at his Florida golf resort, sparking criticism

U.S. President Donald Trump will host next year's Group of Seven economic summit of developed nations' leaders at his Florida golf resort, a move Democrats and others decried as more evidence of the..




Reuters - Published




White House says next G-7 to be held at a Trump golf resort

WASHINGTON — The White House says it has chosen President Donald Trump's golf resort in Miami as the site for next year's Group of Seven summit. The announcement Thursday comes at the same...




WorldNews - Published





Trump will host G7 summit next year at one of his own properties: White House official

U.S. President Donald Trump will be hosting next year's Group of Seven economic summit of developed world leaders at one of his own properties, the Trump National Doral golf resort near Miami, a White..




Reuters - Published




Brazil's Bolsonaro thanks Trump for support at G7 on the Amazon

Brazilian President Jair Bolsonaro on Thursday thanked U.S. President Donald Trump for his support in the Group of Seven's discussion of the Amazon region at last weekend's summit of the world's..




Reuters - Published





Amazon wildfires demand an international response

Brazil's populist president, Jair Bolsonaro, views international criticism of fires raging in his country's Amazon rainforest as interfering in national sovereignty. His government says it will..




WorldNews - Published





Respiratory illness hits Amazon as Brazil spurns G-7 aid

PORTO VELHO, Brazil — Acrimony between Brazil and European countries seeking to help fight Amazon fires deepened on Tuesday, jeopardizing hopes of global unity over how to protect a region seen as..




WorldNews - Published




Russia denies visas to two U.S. senators, amid G7 tensions

Republican and Democratic U.S. senators said Russia refused to grant them visas for a visit to Moscow next week, amid disagreement within Washington and among U.S. allies over whether the country..




Reuters - Published