Vietnam War
1955–1975 conflict in Vietnam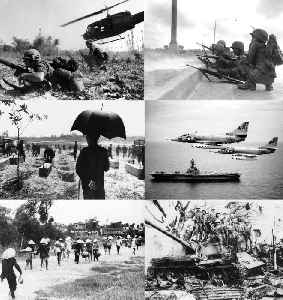 The Vietnam War, also known as the Second Indochina War, and in Vietnam as the Resistance War Against America or simply the American War, was an undeclared war in Vietnam, Laos, and Cambodia from 1 November 1955 to the fall of Saigon on 30 April 1975. It was the second of the Indochina Wars and was officially fought between North Vietnam and South Vietnam. North Vietnam was supported by the Soviet Union, China, and other communist allies; South Vietnam was supported by the United States, South Korea, the Philippines, Australia, Thailand and other anti-communist allies. The war is considered a Cold War-era proxy war from some US perspectives. It lasted some 19 years with direct U.S. involvement ending in 1973 following the Paris Peace Accords, and included the Laotian Civil War and the Cambodian Civil War, resulting in all three countries becoming communist states in 1975.


The Swiftboating Of John Kerry By Trump And The Gaslighting Of Iran
Article by WN.Com Correspondent Dallas Darling The insidious type of political smear campaign known as swiftboating has once again reared its ugly head. Although it's the same target, former..
WorldNews - Published
Search this site and the web:
You Might Like