Long Beach, California
City in California, United States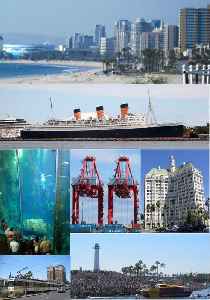 Long Beach is a city in the U.S. state of California located within the Los Angeles metropolitan area. It is the 43rd most populous city in the United States with a population of 462,257 in 2010. A charter city, Long Beach is the 7th most populous city in California.


Shattered glass outside White House after nationwide protests

Residents and business owners in cities across the United States swept up broken glass, took stock of looted goods and surveyed the damage after a sixth straight night of violent protests over racial..
Credit: Reuters Studio Duration: 02:51
Published
You Might Like



California Paralympian Angela Madsen dies rowing alone across Pacific Ocean

By Gary Metzker, Contributing writer Long Beach's Angela Madsen, a three-time Paralympian and U.S. Marine veteran, has died while trying to become the first paraplegic, first openly gay athlete and..




WorldNews - Published





On the beach and in the drive-throughs, California residents adjust to life under quarantine

At a coffee shop in the Los Angeles suburb of Long Beach, a few locals gathered in the tiny, half-lit dining room, cleared of tables and chairs, and talked about how they might make ends meet under..




Reuters - Published





See Long Beach's Signature Bridge Under Construction

Wednesday: The Gerald Desmond Bridge is a crucial connector. Its replacement will be seismically safer, too. Also: A lawsuit to stop the SAT and ACT.




NYTimes.com - Published





Democratic Candidates Swing Through Southern California

Monday: What to know about their stops in L.A. and Long Beach. Also: Updates on a mass shooting in Fresno.




NYTimes.com - Published





3 killed, 9 injured in shooting at party in California home

38 minutes ago LONG BEACH, Calif. — A gunman opened fire on a party killing three people and wounding nine at a home in the Southern California city of Long Beach, authorities said Wednesday. Police..




WorldNews - Published

Also reported by •USATODAY.com


Three dead, nine injured after shooting rampage in Long Beach, California

A shooting took place at a Halloween party in Long Beach, California early morning on Oct. 30. Three people died, nine others were injured.




USATODAY.com - Published




Long Beach shooting: 3 killed at Halloween house party

Three people were killed in a shooting at a home in Southern California. Police say officers were called to a house in Long Beach overnight in what was described as a mass casualty incident.




CBS News - Published





Three people shot dead at Long Beach, California residence

Three people were killed and nine others wounded in a shooting during a Halloween party at a home in Long Beach, California, on Monday night, police and fire department officials said.




Reuters - Published




Long Beach, Calif., Shooting Leaves 3 Dead and 9 Wounded

The shooting in the Southern California city on Tuesday night occurred at a Halloween party, an official said.




NYTimes.com - Published




Shooting in Long Beach, Calif. home: 3 dead, 9 hurt

Authorities say three people were fatally shot and nine others injured at a home in Long Beach, California. Some witnesses say there might have been a Halloween party going on at the house. (Oct. 30)




USATODAY.com - Published




A dozen people shot, three fatally during apparent Halloween party

Authorities say two hooded suspects opened fire at a home in Long Beach, California, outside L.A., then fled




CBS News - Published





California hotel employee charged with threatening workplace attack

A California man who threatened to attack a Marriott hotel where he worked because he was upset over an employment-related issue has been arrested on weapons charges, Long Beach police said.




Reuters - Published





Man arrested with huge arsenal of high-powered weapons; allegedly planning mass shooting

California police arrested a man with several high-powered weapons they say was planning a mass shooting at a Long Beach hotel where he worked.  




USATODAY.com - Published





California hotel cook arrested after allegedly planning mass shooting

Authorities in California say another mass shooting may have been averted. Police arrested 37-year-old Rodolfo Montoya, a cook at a Marriott in Long Beach. They found several guns and hundreds of..




CBS News - Published





California Police Thwart Possible Mass Shooting With Arrest Of Disgruntled Hotel Cook

Police in California thwarted a possible mass shooting this week when they arrested a disgruntled hotel cook who they say threatened to carry out violence at his workplace, the Los Angeles Times..




WorldNews - Published





"Vegas" post sparked FBI probe of Army vet accused of terror plot

Prosecutors allege Mark Domingo planned to detonate a bomb Sunday at a white nationalist rally in Long Beach, California




CBS News - Published





Man accused of online threat against Bernie Sanders rally

Long Beach police scheduled extra patrols in high visibility areas following a string of fatal mass shootings in the U.S. in recent day




CBS News - Published