Eric Swalwell
American politician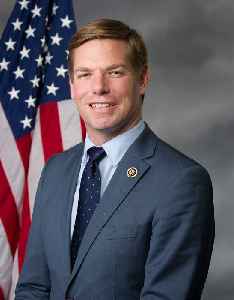 Eric Michael Swalwell Jr. is an American politician from California, who serves as the U.S. Representative from California's 15th congressional district. His district covers most of eastern Alameda County and part of central Contra Costa County. He is a member of the Democratic Party.


Man Charged in Racist Threats Against Cory Booker, Rashida Tlaib and Eric Swalwell
The man, John J. Kless, of Florida, made phone calls laced with racist slurs and cursing to three members of Congress within 30 minutes on April 16, according to court records.
NYTimes.com - Published
Florida man arrested for making threats to members of Congress
John Kless is accused of making threatening calls to U.S. Reps. Rashida Tlaib​ and Eric Swalwell​ and Sen. Cory Booker,​ and allegedly made threats against Rep. Ilhan Omar in those calls​
CBS News - Published
Eric Swalwell To Run 2020 Presidential Election On Gun Control
California U.S. Representative Eric Swalwell is running for the 2020 presidential election. According to Business Insider, Swalwell was elected to Congress at the age of 31. The congressman is..
Credit: Wochit News Duration: 00:32Published
Democratic Candidate Eric Swalwell's Presidential Campaign Thinks Gun Reform Will Mobilize Voters
Democratic 2020 presidential candidate Rep. Eric Swalwell is placing his bets on gun reform as a winning issue. Swalwell is explicitly focusing his campaign on reducing gun violence and presenting more..
Credit: Wochit News Duration: 00:32Published
Rep. Eric Swalwell Announces 2020 Presidential Run
Rep. Eric Swalwell said Americans feel like they are "running in place and it is not adding up to anything."
Credit: Newsy Studio Duration: 00:47Published
Search this site and the web:
You Might Like