Josh Frydenberg
Australian politician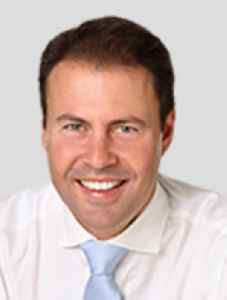 Joshua Anthony Frydenberg is an Australian politician who has been Treasurer of Australia and Deputy Leader of the Liberal Party since August 2018. He has been a Member of Parliament for Kooyong since 2010.


First Australia recession in nearly 30 years

Australia fell into its deepest economic slump on record last quarter, marking the start of a technical recession on Wednesday. Figures showed the economy shrank 7% in the three months to the end of..
Credit: Reuters - Politics Duration: 01:27
Published
Facebook's ultimatum will block Australians' news

[NFA] Facebook Inc on Tuesday said it would stop Australians from sharing news content on its platforms if a proposal to make it pay local media outlets for their content becomes law, a sharp ultimatum..
Credit: Reuters - Politics Duration: 01:41
Published
You Might Like



'All about the politics': Daniel Andrews hits back at Josh Frydenberg over Victoria's coronavirus roadmap

Treasurer Josh Frydenberg and the premier of his home state of Victoria are sharply at odds over coronavirus restrictions.




SBS - Published





Josh Frydenberg slams Victoria's 'callous indifference' towards small business owners

Business is unhappy by the slow pace of restrictions being lifted in Victoria, while there is a growing row over travel arrangements with New Zealand.




SBS - Published





Covid 19 coronvirus: Victorian Premier Daniel Andrews urged to ease lockdown restrictions

Treasurer Josh Frydenberg has again urged Victorian Premier Daniel Andrews to end the state's lockdown.Speaking to the media this morning, Frydenberg said virus restrictions were seriously affecting..




New Zealand Herald - Published





Treasurer Josh Frydenberg says 'some businesses will not survive' when JobKeeper ends in March

There are some 900,000 businesses reliant on JobKeeper right now, but the Treasurer conceded the government won't be able to save them all.




SBS - Published





Massive debt 'reflects the significance of the economic challenge', says treasurer

Treasurer Josh Frydenberg has defended the 2020 budget debt saying it reflects the significance of the economic challenge and shock that the economy has faced due to the COVID-19 pandemic.




SBS - Published




'Our economy has been hit hard': The Treasurer delivers the 2020 Federal Budget

Treasurer Josh Frydenberg has delivered a defiant 2020 Federal budget claiming, 'the Great Depression and two world wars did not bring Australia to its knees and neither will COVID-19', as he laid a..




SBS - Published





Watch: The federal budget speech live

Treasurer Josh Frydenberg is speaking live with the federal budget announcement at 7.30pm (AEST). With many Australians still grappling with the economic fallout from the COVID-19 pandemic, the budget..




SBS - Published





Josh Frydenberg provides an update on Budget 2020

The Treasurer, Josh Frydenberg provided an update on the budget before it is unveiled tonight.




SBS - Published





Treasurer Josh Frydenberg says there is a 'road out' from Australia's first recession in almost 30 years

Treasurer Josh Frydenberg says while the new GDP figures, released on Wednesday, are 'devastating' there is a road out.




SBS - Published





Watch: Treasurer GDP figures update

New figures have confirmed Australia's first recession in almost 30 years, as workers have pandemic-sparked wage subsidies locked in until March. Treasurer Josh Frydenburg is speaking live with more..




SBS - Published




Josh Frydenberg set to announce first Australian recession in almost 30 years

Australia's first recession in almost 30 years is set to be confirmed on Wednesday, as workers have pandemic-sparked wage subsidies locked in until March.




SBS - Published





Treasurer lashes Victorian government for 'biggest public policy failure in living memory'

Treasurer Josh Frydenberg says businesses and Victorians under Stage 4 restrictions are being "kept in the dark".




SBS - Published





Josh Frydenberg says his delayed budget will focus on getting people back to work

Treasurer Josh Frydenberg says his delayed 2020/21 budget will focus on getting people back to work after the hit to the economy from the coronavirus.




SBS - Published





Budget to focus on jobs: Frydenberg

Treasurer Josh Frydenberg says his delayed 2020/21 budget will focus on getting people back to work after the hit to the economy from the coronavirus.




SBS - Published





Frydenberg won't back JobKeeper amendments

Treasurer Josh Frydenberg has rejected Labor's proposed amendments to the government's JobKeeper extension bill.




SBS - Published





Frydenberg still considering super rise

Treasurer Josh Frydenberg is still considering whether to go ahead with legislated increases in the superannuation guarantee due to come into force next year.




SBS - Published





Josh Frydenberg optimistic about jobs outlook, yet business uncertainty hits new high

New Treasury analysis gives Treasurer Josh Frydenberg reason to be positive about Australia's employment outlook.




SBS - Published





Frydenberg optimistic about jobs outlook

New Treasury analysis gives Treasurer Josh Frydenberg reason to be optimistic about Australia's employment outlook.




SBS - Published





A baby boom might help Australia's economy but new migrants have little support

Just one month after Treasurer Josh Frydenberg urged people in Australia to have more babies amid the coronavirus pandemic, parenting support services say demand for help has never been higher.




SBS - Published





Victorians deserve to know extent of 'significant' hotel quarantine failures, Josh Frydenberg says

Treasurer Josh Frydenberg says Victorians deserve to know the extent of the failures in the state's hotel quarantine program.




SBS - Published





Victoria deserves virus answers: Treasurer

Treasurer Josh Frydenberg says Victorians deserve to know the extent of the failures in the state's hotel quarantine program.




SBS - Published





Josh Frydenberg says Victoria 'at war' as government considers additional economic support

The federal government is considering extending eligibility for its wage subsidy scheme and introducing paid pandemic leave during Victoria's lockdown.




SBS - Published





JobSeeker coronavirus supplement could go on beyond Christmas, Josh Frydenberg says

Treasury forecasts the unemployment rate to peak at 9.25 per cent by the end of the year, compared with the current rate of 7.4 per cent.




SBS - Published





Unemployment to hit peak of 9.25 per cent

Treasurer Josh Frydenberg says Australia's jobless rate will peak at 9.25 per cent in the December quarter of this year.




SBS - Published





Treasurer announces $184.5 billion deficit forecast, the largest since World War II

Treasurer Josh Frydenberg has announced a deficit of $85.8 billion in 2019-2020 and $184.5 billion in 2020-2021 due to coronavirus spending measures and a downturn in revenue.




SBS - Published




Watch: Economic and Fiscal update

Treasurer Josh Frydenberg is speaking live with an economic and fiscal update at 11am (AEST).




SBS - Published





Victoria's second wave coronavirus lockdown will wipe $3 billion from Australian economy

Federal Treasurer Josh Frydenberg will detail the coronavirus hit and budget forecasts for the 2019/20 and 2020/21 financial years in an economic update.




SBS - Published





New lockdown will wipe $3.3b from economy

Federal Treasurer Josh Frydenberg will detail the coronavirus hit and budget forecasts for the 2019/20 and 2020/21 financial years in an economic update.




SBS - Published





Banks step in as Victoria bleeds billions

Treasurer Josh Frydenberg says it's crucial to ensure Victoria's coronavirus outbreak is brought under control for the sake of the nation's economic recovery.




SBS - Published





Morrison flags support for aviation sector

Qantas has been in talks with Prime Minister Scott Morrison and Treasurer Josh Frydenberg about extending support for the ailing carrier.




SBS - Published





'Explain this blunder': JobKeeper error still dogging government

Labor is continuing pressure on federal Treasurer Josh Frydenberg over the $60 billion error in the JobKeeper scheme, while the government says it's good news.




SBS - Published





Australia's water policy to be examined in new inquiry

Federal Treasurer Josh Frydenberg has announced a new Productivity Commission inquiry into Australia's water policy.




SBS - Published





Josh Frydenberg tests negative for coronavirus after coughing fit in parliament

Treasurer Josh Frydenberg has tested negative for COVID-19 after he took the test following a coughing fit in parliament.




SBS - Published




Coronavirus: Josh Frydenberg tested for Covid-19 after coughing fit

Josh Frydenberg lost his voice from the coughing, and is now being tested for Covid-19.




BBC News - Published

Also reported by •SBS


Australian Treasurer tested for COVID-19 after coughing in parliament

Australian Treasurer Josh Frydenberg says he was tested for COVID-19 and is isolation awaiting the result after he coughed repeatedly during a speech in parliament on Tuesday.




Reuters - Published

Also reported by •SBS


Treasurer Josh Frydenberg tested for coronavirus, awaiting results in self-isolation

Treasurer Josh Frydenberg has been tested for coronavirus after having a coughing fit in parliament on Tuesday.




SBS - Published





Coronavirus restrictions to cut $50 billion from Australia's economy, Josh Frydenberg says

Treasurer Josh Frydenberg was delivering a sobering economic update when he was forced to stop due to a coughing fit.




SBS - Published




Treasurer to detail economic boost from easing coronavirus restrictions as Parliament returns

The first month of easing coronavirus restrictions should lead to more than 250,000 Australians back in jobs, Treasurer Josh Frydenberg will tell parliament.




SBS - Published




Australia is losing $4 billion every week the current coronavirus restrictions stay in place

Josh Frydenberg says it's vital people get back to work as the current levels of coronavirus-related restrictions wipe $4 billion a week from the economy.




SBS - Published





Virus will wipe $50b off economy: Treasury

Josh Frydenberg says it's vital people get back to work as the current levels of coronavirus-related restrictions wipe $4 billion a week from the economy.




SBS - Published





China's attack on Peter Dutton 'unwanted and unjustified'

Treasurer Josh Frydenberg has described China's attack on Home Affairs Minister Peter Dutton as unwanted and unjustified after accusing him of being a mouthpiece for the United States.




SBS - Published





China's Dutton attack unhelpful: treasurer

Josh Frydenberg has described China's attack on Home Affairs Minister Peter Dutton as unwanted and unjustified.




SBS - Published





Josh Frydenberg to announce $1500 wage subsidy package

Treasurer Josh Frydenberg says the government will be announcing a wage subsidies package on Monday to help businesses deal with the fallout of coronavirus.




SBS - Published




Court rules Josh Frydenberg is eligible to sit in parliament

A petition arguing federal treasurer Josh Frydenberg was ineligible for re-election last year has been rejected by a court.




SBS - Published





Frydenberg eligible as an MP, court rules

A petition arguing federal treasurer Josh Frydenberg was ineligible for re-election last year has been rejected by a court.




SBS - Published