1948 Palestinian exodus
The ethnic cleansing of Palestine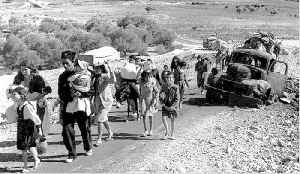 The 1948 Palestinian exodus, also known as the Nakba, occurred when more than 700,000 Palestinian Arabs — about half of prewar Palestine's Arab population — fled or were expelled from their homes, during the 1948 Palestine war. Between 400 and 600 Palestinian villages were sacked during the war, while urban Palestine was almost entirely extinguished. The term nakba also refers to the period of war itself and events affecting Palestinians from December 1947 to January 1949.


Nearly 50 Palestinians wounded in 'Catastrophe' anniversary protests on Gaza-Israel border
Israeli troops wounded nearly 50 Palestinians at the Gaza border on Wednesday during protests to mark the 71st anniversary of the "Nakba", or catastrophe, when many Palestinians lost their homes in the..
Reuters - Published
Saudi Paper Urges Palestinians To Consider Trump Peace Plan
The Associated Press reports the editor of a Saudi newspaper has written a story urging Palestinians to keep an open mind toward a Mideast plan being devised by President Donald Trump's son-in-law..
WorldNews - Published
Search this site and the web:
You Might Like