Jimmy Carter
39th president of the United States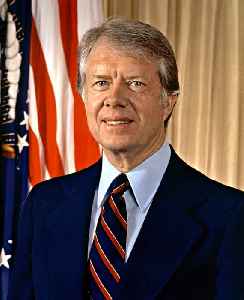 James Earl Carter Jr. is an American politician and philanthropist who served as the 39th president of the United States from 1977 to 1981. A Democrat, he previously served as a Georgia State senator from 1963 to 1967 and as the 76th governor of Georgia from 1971 to 1975. Carter has remained active in public life during his post-presidency, and in 2002 he was awarded the Nobel Peace Prize for his work in co-founding the Carter Center.


Have you seen this man?
From the Notre Dame damage to Trump and Jimmy Carter, here's what to know Tuesday.
USATODAY.com - Published
After phone call about China, White House says Trump 'always liked' Jimmy Carter
On several occasions, Trump has referred to Carter as the worst president in U.S. history – at least until President Barack Obama came along.
USATODAY.com - Published
Jimmy Carter Is Now the Longest-Living US President
As of Friday, former U.S. President Jimmy Carter is 94 years and 172 days old.
Credit: Newsy Studio Duration: 01:00Published
Jimmy Carter to Become the Longest Living American President
Former President Jimmy Carter is now the longest-living chief executive in American history.
Credit: Time Duration: 01:08Published
2020 Democrats Are Seeking Jimmy Carter
According to Poliitco.com, "The post-presidential rehabilitation of Jimmy Carter's image is reaching a new peak. After a decades-long climb from the gutter of public opinion, the truth-telling..
Credit: Wochit News Duration: 00:31Published
Search this site and the web:
You Might Like