Kei Nishikori
Japanese tennis player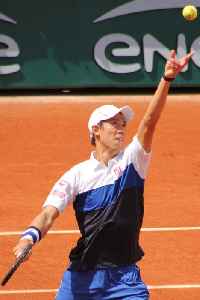 Kei Nishikori
is a Japanese professional tennis player. He is the only male Japanese tennis player ever to be ranked inside the top 5 in singles, and first reached his career-high singles ranking of world No. 4 in March 2015. He is currently ranked world No. 5 by the Association of Tennis Professionals (ATP).
Past runners-up Nishikori advances at US Open
NEW YORK: Past US Open runners-up Kei Nishikori advanced to the third round of the Grand Slam event on a rainy Wednesday. Japanese seventh seed Nishikori, the 2014 US Open runner-up and a semi-finalist..
WorldNews - Published
Halep hits back against Alexandrova, Nishikori goes down
MASON, Ohio – Simona Halep rallied after dropping the first set to defeat Ekaterina Alexandrova 3-6 7-5 6-4 in the second round of the Western & Southern Open on Wednesday. The Wimbledon...
WorldNews - Published
Wimbledon 2019: Rafael Nadal and Roger Federer look ahead to semi-final showdown
Rafael Nadal and Roger Federer are both relishing their first Wimbledon meeting since their classic final of 2008.Djokovic overcomes Goffin in QFsRoger Federer and Rafael Nadal set up SF The pair will..
WorldNews - Published
Nishikori, Nadal sail into Wimbledon last 16
Kei Nishikori equalled Ai Sugiyama's record of four appearances in the last 16 of Wimbledon by a...
WorldNews - Published
The Latest: At Wimbledon, Nishikori earns 400th career win
Kei Nishikori recorded his 400th career tour-level win to reach the fourth round of Wimbledon
USATODAY.com - Published
Federer, Nadal to meet at French Open for first time since 2011
(CNN)Roger Federer and Rafael Nadal will meet at the French Open for the first time in eight years after winning hugely different quarterfinals Tuesday in soggy and blustery Paris. While Federer downed..
WorldNews - Published
Nishikori Wins 2-day Five-setter, Djokovic Easily Advances Into QF
When it comes to the deciding set, count on Kei Nishikori. The Japanese player won his eighth consecutive five-set match on Monday to defeat Benoit Paire 6-2, 6-7 (8), 6-2, 6-7 (8), 7-5 over two days..
WorldNews - Published
You Might Like