Father
Male parent or individual progenitor of human offspring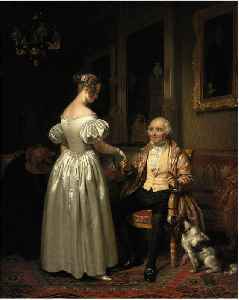 A father is the male parent of a child. Besides the paternal bonds of a father to his children, the father may have a parental, legal, and social relationship with the child that carries with it certain rights and obligations. An adoptive father is a male who has become the child's parent through the legal process of adoption. A biological father is the male genetic contributor to the creation of the infant, through sexual intercourse or sperm donation. A biological father may have legal obligations to a child not raised by him, such as an obligation of monetary support. A putative father is a man whose biological relationship to a child is alleged but has not been established. A stepfather is a male who is the husband of a child's mother and they may form a family unit, but who generally does not have the legal rights and responsibilities of a parent in relation to the child.


Mumbai: Father rapes minor daughter, gets life term
Special Public Prosecutor Ashwini Rayakar said that the incident took place when her father and she were alone at home.
DNA - Published
Dad accuses clinic of sperm mix-up after learning daughter isn't his
They have since narrowed the possible biological father to a handful men, including one who worked at the hospital that helped conceive their daughter
CBS News - Published
Dad's murals honor son who died in Parkland shooting
A father who is no stranger to gun violence is providing comfort to the people of El Paso following the mass shooting there. Manuel Oliver travels the world painting murals in honor of his son,..
CBS News - Published
'Hey, Hey, Hey': Bill Cosby posted for Father's Day – leaving many to diss 'America's Dad'
Bill Cosby may be in prison, but his social media accounts still posted a Father's Day message Sunday.
USATODAY.com - Published
US Open: This dad spends Father's Day as his son's caddie at Pebble Beach
It's probably the best Father's Day gift ever. Golfer Chandler Eaton had his dad step in as his caddie for the U.S. Open at Pebble Beach.
USATODAY.com - Published
Memory of catching his son's home run will always be special -- on Father's Day and every day
Father's Day reminds Conrad Gregor and his dad, Marty, of the home run that Conrad hit and Marty caught in a 2014 minor-league game.
USATODAY.com - Published
The tools dad left me can't fix my broken heart on Father's Day
My dad was a strict man, but he was honest and worked hard to provide for our family. This Father's Day, I remember him through his tools and work.
USATODAY.com - Published
For Father's Day, let's make dads part of prenatal care. It's good for parents and babies.
Fathers matter a lot. Their involvement with a partner's pregnancy can even reduce the risk of a child dying in the first year of life.
USATODAY.com - Published
Free meals, treats and discounts for Dad: Here's where to score for Father's Day
Need ideas for Father's Day? Many restaurants are helping families honor Dad with free treats, discounts, brunches and other meals Sunday.
USATODAY.com - Published
Moving past tragedy, family celebrates two dads on Father's Day
Keeping their dad's memory alive, the Pieniazek kids will celebrate two men Sunday for Father's Day.
USATODAY.com - Published
Wong, Park share dads' advice ahead of Father's Day
With Father's Day this weekend in the U.S., the stars of "Always Be My Maybe" are sharing the best advice they've gotten from their own dads. (June 14)
USATODAY.com - Published
You Might Like