Kate Brown
38th Governor of Oregon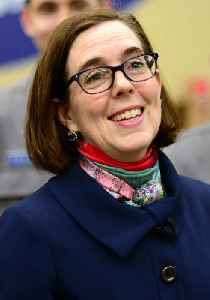 Katherine Brown is an American politician and attorney serving as the 38th governor of Oregon since 2015. A member of the Democratic Party, she served three terms as the state representative from the 13th district of the Oregon House of Representatives from 1991 to 1997, three terms as the state senator from the 21st district of the Oregon Senate from 1997 to 2009, three terms as Majority Leader of the Oregon Senate from 2003 to 2009, as well as two terms as Oregon Secretary of State from 2009 to 2015. She assumed the governorship upon the resignation of John Kitzhaber in 2015. She was elected to serve out the remainder of his gubernatorial term in the special election in 2016 and was reelected to a full term in 2018.


Oregon Gov. 'incredibly worried' about Proud Boys rally

Oregon Governor Kate Brown on Friday declared a state of emergency in Portland over the weekend due to risks of violence as thousands of members of what she called "white supremacist groups" such as..
Credit: Reuters - Politics Duration: 01:29
Published
As fires rage, Oregon gov. calls for more help

[NFA] Infernos spanning across western U.S. states continue to destroy homes and livelihoods as Oregon Governor Kate Brown makes a formal request to the White House for more federal disaster..
Credit: Reuters Studio Duration: 01:58
Published
Hundreds of thousands flee from U.S. West fires

Dozens of extreme, wind-driven wildfires burned through forests and towns in U.S. West Coast states on Thursday, destroying hundreds of homes, killing at least nine people and forcing hundreds of..
Credit: Reuters - Politics Duration: 01:40
Published
You Might Like



Oregon police prepare for weekend demonstrations

Oregon Gov. Kate Brown is sending state troopers and sheriffs deputies to Portland through the weekend to help police monitor a weekend rally in the city by the right-wing group Proud Boys and counter..




USATODAY.com - Published




Death toll likely to rise in devastating wildfires across the West

At least 35 people have been killed as wildfires continue to rage across the West Coast. In Oregon, mobile morgues have been set up, as Governor Kate Brown says the state's death toll is likely to..




CBS News - Published





Death toll climbs to 33 as Western states battle ongoing wildfires

In Oregon, more than 1 million acres burned last week alone - double a typical year. Oregon Governor Kate Brown called this year's fires a horrible harbinger of climate change. Lilia Luciano reports.




CBS News - Published





Transcript: Gov. Kate Brown on "Face the Nation"

The following is a transcript of an interview with Oregon Governor Kate Brown that aired Sunday, September 13, 2020, on "Face the Nation."




CBS News - Published





Oregon Governor Kate Brown calls wildfires a "wake-up call" on climate change

Governor Kate Brown says fires ravaging her state are a "bellwether for climate change."




CBS News - Published





Dozens still missing as weather helps wildfires fight in Oregon

Easing winds and a rise in humidity have helped firefighters battle massive blazes in Oregon that have taken a deadly toll across the US state. Governor Kate Brown said dozens of people are still..




WorldNews - Published





'Unprecedented' number of fires rage across US states

Numerous wildfires are burning in Oregon's forested valleys and along the coast, destroying hundreds of homes and causing mass evacuations. Farther north, flames devoured buildings and huge tracts of..




WorldNews - Published





Portland readies for 100th night of protests

Oregon Governor Kate Brown is inviting protest organizers and community leaders to meet to work together toward the goals of racial justice and police accountability. The olive branch comes as Saturday..




CBS News - Published





Portland protests: Governor's plan faces criticism; Trump defends caravan of supporters

Oregon Gov. Kate Brown's plan to increase law enforcement in Portland faced criticism as President Donald Trump defended a caravan of his supporters.




USATODAY.com - Published




State police return to Portland after protest shooting; Trump plans to visit Kenosha

Oregon Gov. Kate Brown announced a plan to curb violence in Portland following a fatal shooting and clashes between Trump supporters and protesters.




USATODAY.com - Published





Portland protest shooting: Oregon State Police returning; what is Patriot Prayer; Trump Kenosha visit

Oregon Gov. Kate Brown announced a plan to curb violence in Portland following a fatal shooting and clashes between Trump supporters and protesters.  




USATODAY.com - Published





Federal Agents Fire Tear Gas at Portland Protesters After Oregon Gov. Says They're Leaving

Around 500 people arrived in downtown Portland for a 63rd consecutive night of protests after Gov. Kate Brown announced federal forces would be leaving the city. ......




WorldNews - Published





Oregon governor: Feds will withdraw from Portland

Oregon Gov. Kate Brown says she has reached an agreement with the Trump administration for federal officers to gradually withdraw from downtown Portland where they have clashed with protesters. (July..




USATODAY.com - Published





U.S., Oregon agree to phase out federal agents from Portland

(Reuters) – Oregon's governor on Wednesday said federal tactical police had agreed to withdraw from Portland, though U.S. officials said agents would stay until conditions improved after weeks of..




WorldNews - Published





Federal agents will withdraw from Portland, governor says: 'They have acted as an occupying force'

Federal officers will be withdrawing from Portland beginning Thursday, Oregon Gov. Kate Brown said Wednesday.




USATODAY.com - Published




Federal Tactical Teams to Withdraw From Portland, Governor Says

Gov. Kate Brown of Oregon said the teams will begin a withdrawal on Thursday. Federal officials cautioned that they will withdraw only when they are confident the federal courthouse can be secured.




NYTimes.com - Published





Oregon supreme court reinstates coronavirus curbs

The Oregon Supreme court stayed on Monday a ruling by a Baker County judge that had invalidated statewide curbs imposed by Governor Kate Brown to rein in the coronavirus.




Reuters - Published





Oregon governor outlines reopening plans

Oregon Governor Kate Brown on Thursday outlined a plan to reopen salons, gyms, barber shops and restaurants in the least-affected - and mostly rural - parts of the state after more than a month of a..




USATODAY.com - Published





Oregon Gov. Kate Brown: Sports in state unlikely to have fans in stands until at least October

Oregon Health Authority is advising that large gatherings be canceled or at least significantly modified through September, Gov. Kate Brown said.




USATODAY.com - Published





Oregon making plans to gradually reopen ecoonomy

Oregon Gov. Kate Brown is announcing a framework of how the state will attempt to reopen as the coronavirus pandemic eases. The governor said that the reopening will proceed "gradually, incrementally..




USATODAY.com - Published





Oregon declares emergency as coronavirus cases double to 14

Oregon Governor Kate Brown declared a 60-day state of emergency on Sunday as coronavirus cases in the state doubled to 14.




Reuters - Published





Oregon Senate Republicans walk out; Oregon State Police called to bring them back

Oregon Senate Republicans refused to appear at the state Capitol, prompting Gov. Kate Brown to ask the state police to retrieve some of the absent senators.




USATODAY.com - Published