Oklahoma City
State capital city in Oklahoma, United States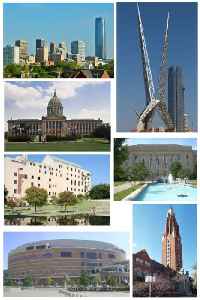 Oklahoma City, often shortened to OKC, is the capital and largest city of the U.S. state of Oklahoma. The county seat of Oklahoma County, the city ranks 27th among United States cities in population. The population grew following the 2010 Census, with the population estimated to have increased to 643,648 as of July 2017. As of 2018, the Oklahoma City metropolitan area had a population of 1,396,445, and the Oklahoma City-Shawnee Combined Statistical Area had a population of 1,469,124 residents, making it Oklahoma's largest metropolitan area.


Severe weather pummels the Southern Plains
Multiple water rescues have been carried out in Oklahoma as the state braces for more severe weather. On Monday, more than a dozen tornadoes touched down in the Southern Plains, bringing heavy rain and..
CBS News - Published
Dangerous Tornadoes and Flash Floods Forecast for Oklahoma and Texas
Forecasters said a rare "high risk" zone for potentially catastrophic tornadoes, issued for the first time in two years, included Oklahoma City and Norman.
NYTimes.com - Published
Severe Weather Rips Through The Great Plains and Midwest
According to Mother Nature Network, Severe storms and devastating tornadoes have wreaked havoc in Texas, Oklahoma, Louisiana, Missouri, Kansas and Arkansas over the past few days. The string of intense..
Credit: Wochit News Duration: 00:36Published
After tornadoes, flash floods for Oklahoma
After being pummeled by tornadoes late Monday, multiple counties across Oklahoma are dealing with flash floods. Rough cut (no reporter narration).
Credit: Reuters Studio Duration: 00:56Published
More Tornadoes, Hail, Rain For U.S. Southern Plains
Reuters reports U.S. southern plains states face more tornadoes, hail and heavy rain after at least 19 twisters tore through parts of Texas and Oklahoma. The National Weather Service said on Tuesday..
Credit: Wochit News Duration: 00:32Published
Window cleaners swing violently on out of control lift atop skyscraper
Two window cleaners in Oklahoma City had a lucky escape after the lift they were in swung wildly at the top of a skyscraper
Credit: euronews (in English) Duration: 00:50Published
Window cleaning platform swings out of control at top of skyscraper
A window cleaning platform carrying two workers began swinging wildly out of control at the top of a skyscraper. Oklahoma City Fire Department shared video of the platform at the top of Devon Tower in..
Credit: PA - Press Association STUDIO Duration: 00:47Published
The Thunder Hit 15 3's To Beat The Blazers
There's no secret as to why Damian Lillard was a little bothered on Friday following his game against Oklahoma City. After winning the first two games at home, the Blazers dropped Game 3 against the..
Credit: Wochit News Duration: 00:42Published
Global White Supremacy Needs a Global Response
World leaders have condemned the attack in New Zealand, but there's been little talk about how to address the ideology that led to the violence.
Credit: Newsy Studio Duration: 04:39Published
From Texas to Oklahoma, 40 tornadoes touch down
More powerful storms are building in the southern Plains where five and a half million people are under a threat of severe weather. Tornadoes touched down in several states over the weekend. School is..
CBS News - Published
Oklahoma window cleaners rescued from swinging lift
The workers in Oklahoma City were trapped about 50-storeys up as the lift began to swing out of control.
BBC News - Published
Window washers swing dangerously high above an Oklahoma City skyscraper
Two workers had to be rescued from an "out of control" lift at the top of Oklahoma City's Devon Tower.
USATODAY.com - Published
2 rescued from scaffold near top of Oklahoma tower
Two window washers are rescued from a scaffold above the roof of an Oklahoma City skyscraper. (May 15)
USATODAY.com - Published
You Might Like