Giannis Antetokounmpo
Greek basketball player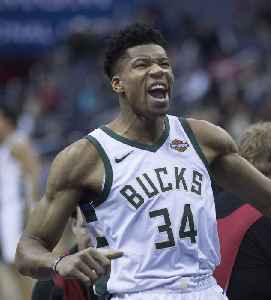 Giannis Sina Ougko Antetokounmpo is a Greek professional basketball player for the Milwaukee Bucks of the National Basketball Association (NBA). Although nearly 7 feet tall, Antetokounmpo possesses the athleticism and ball-handling skills of a guard, giving rise to his nickname the Greek Freak. During the 2015–16 season, he became the Bucks' primary playmaker, and in 2016–17, led the Bucks in all five major statistical categories and became the first player in NBA history to finish a regular season in the top 20 in total points, rebounds, assists, steals, and blocks. He received the Most Improved Player award in 2017. He has received three All-Star selections, and led the Eastern-Conference in voting in 2019.


Is going all-out on both ends of the court taking a toll on Giannis Antetokounmpo?
During Milwaukee's Game 2 win over the Detroit Pistons, there was one stretch during which Giannis Antetokounmpo looked like he was struggling.
USATODAY.com - Published
Antetokounpo leads Bucks past Pistons for 2-0 series lead
Giannis Antetokounmpo scored 13 of his 26 points in Milwaukee's big third quarter and the Bucks beat the Detroit Pistons 120-99 to take a 2-0 lead in the first-round playoff series
USATODAY.com - Published
Giannis Antetokounmpo Turns Down 'Space Jam 2': 'I Don't Like Being Hollywood'
Milwaukee Bucks forward Giannis Antetokounmpo recently said that he declined the invitation to be in "Space Jam 2," days after reports circulated that LeBron James is struggling to recruit NBA players..
Credit: Sports Illustrated Duration: 01:17Published
Is Giannis Antetokounmpo Going to Be Better Than Shaquille O'Neal?
Shaquille O'Neal recently heaped some serious praise on Giannis Antetokounmpo, stating on "The Big Podcast With Shaq" that the Bucks' star is "better than me at 24." Will Antetokounmpo end his career..
Credit: Sports Illustrated Duration: 01:14Published
Should the Bucks Be Favored to Win the Eastern Conference?
Giannis Antetokounmpo dominated the 76ers on Thursday night, scoring 45 points to help Milwaukee clinch the top seed in the Eastern Conference. Are Giannis and the Bucks the clear favorite to represent..
Credit: Sports Illustrated Duration: 01:40Published
Should the Bucks Sit Giannis Antetokounmpo for the Rest of the Regular Season?
On Thursday night, Bucks star Giannis Antetokounmpo left Milwaukee's win over the Clippers with an ankle injury. SI Now's Robin Lundberg and Ryan Asselta wonder if the team should keep the Greek Freak..
Credit: Sports Illustrated Duration: 01:47Published
Should Giannis Antetokounmpo or James Harden Win the NBA MVP?
James Harden and Giannis Antetokounmpo are neck-and-neck in one the tightest MVP races the NBA has ever had. With both players putting up monster numbers, which one really deserves the award?
Credit: Sports Illustrated Duration: 01:18Published
Antetokounmpo, Bucks pound Pistons 121-86 in opener
MILWAUKEE — Giannis Antetokounmpo ran and dunked all over the Pistons until they just shoved him to the ground. The team with the NBA's best record wanted to show it can make a long playoff run,..
WorldNews - Published
Giannis Antetokounmpo, Milwaukee transforming together as he leads NBA's next generation
MVP candidate has Bucks back in playoffs with NBA's best record and energized city behind him.
USATODAY.com - Published
Search this site and the web:
You Might Like