Cabinet of the United States
Advisory body to the President of the United States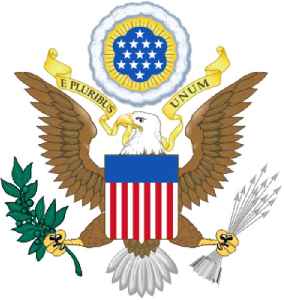 The Cabinet of the United States is part of the executive branch of the federal government of the United States. The Cabinet's role, inferred from the language of the Opinion Clause of the Constitution, is to serve as an advisory body to the President of the United States. Additionally, the Twenty-fifth Amendment authorizes the Vice President, together with a majority of certain members of the Cabinet, to declare the president "unable to discharge the powers and duties of his office". Among the senior officers of the Cabinet are the Vice President and the heads of the federal executive departments, all of whom—if eligible—are in the line of succession. Members of the Cabinet serve at the pleasure of the President, who can dismiss them at will for no cause. All federal public officials, including Cabinet members, are also subject to impeachment by the House of Representatives and trial in the Senate for "treason, bribery, and other high crimes and misdemeanors".


Why Trump's Cabinet vacancies, turnover threaten our government
The lack of political leadership in Trump's Cabinet can be debilitating for the functioning of the federal government.
USATODAY.com - Published
Search this site and the web:
You Might Like