New York City Fire Department
Fire department in New York City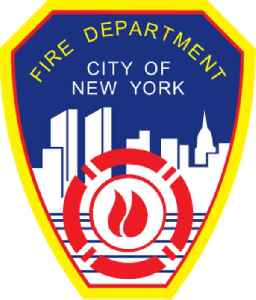 The New York City Fire Department, officially the Fire Department of the City of New York (FDNY), is a department of the government of New York City that provides fire protection, technical rescue services, primary response to biological, chemical, and radioactive hazards, and emergency medical services responses to the five boroughs of New York City.


U.S. coronavirus deaths top 100,000 -Reuters tally

U.S. deaths from the novel coronavirus topped 100,000 on Wednesday, according to a Reuters tally. Chris Dignam has more on the ongoing battle to contain the deadly disease.
Credit: Reuters - Politics Duration: 03:47
Published
You Might Like



FDNY responds to building collapse in Brooklyn, NY

A three-story building collapsed in Brooklyn, New York on Wednesday. New York City Fire Department and emergency services determined there was no one in the building at the time of the collapse. (July..




USATODAY.com - Published





A day with an NYC paramedic in the COVID-19 fight

The AP followed an FDNY paramedic through her shift Wednesday to see how the coronavirus pandemic is affecting first responders. Elizabeth Bonilla has been trying to remain strong for her patients,..




USATODAY.com - Published





At-home COVID-19 deaths may be significantly undercounted in New York City

The daily tally of New York City residents who died at home with coronavirus-like symptoms exploded from 45 on March 20 to 241 on April 5, according to Fire Department of New York data - suggesting..




Reuters - Published




Hundreds of ambulances and EMTs answer NYC's calls for help

The City of New York, FDNY and FEMA are partnering to fight this pandemic. Hundreds of first responders and ambulances flooded into New York City to offer their help.




USATODAY.com - Published





FDNY mourns loss of Danny Foley, another victim of 9/11-related cancer

Danny Foley spent days after 9/11 searching for his brother, Tommy. Thomas J. Foley died Sept. 11, 2001. Daniel R. Foley died Feb. 22, 2020.  




USATODAY.com - Published





Group who lost firefighter dads on 9/11 graduate from FDNY academy

Of the 21 legacies who graduate Tuesday from the FDNY academy, 13 lost their fathers on in the terror attacks on Sept. 11.




USATODAY.com - Published




FDNY has 13 new firefighters who lost parents in the line of duty 9/11

Out of the 301 men and women who graduated from the New York Fire Academy on Tuesday, 13 of them lost parents in the line of duty on 9/11. Now, they're following in their family members' footsteps to..




CBS News - Published





New FDNY class includes 13 children of 9/11 victims

The FDNY swore in 301 new probationary firefighters at a ceremony Tuesday. That included a record number of "legacies" whose fathers died protecting New Yorkers. Thirteen of the new firefighters lost a..




CBS News - Published





9/24: CBS Evening News

Nancy Pelosi launches formal Trump impeachment inquiry; 13 new FDNY firefighters lost a parent on 9/11.




CBS News - Published





13 new FDNY firefighters lost a parent on 9/11

Tuesday marked graduation day for 301 men and women of the FDNY's class of 2019. Among them, a record number who are answer the call, as their parents did for the last time on 9/11. Mola lenghi has..




CBS News - Published




Airman welcomed home by family and FDNY

Air National Guard member James Friedlander surprised his 2-year-old daughter, Vivian, after returning from a 6-month deployment in Qatar. But he wasn't the only one with a surprise up his sleeve that..




USATODAY.com - Published




'Insane, stabbing, burning pain': Ground zero workers still battling 9/11 health problems

The headaches forced Joe McKay, now 52, to retire early from the New York City Fire Department. The New Jeresey resident fills the void with advocacy.




USATODAY.com - Published




A firefighter who died on 9/11 was finally laid to rest. 1,109 victims remain unidentified

Michael Haub served in the Fire Department of New York for 13 years. 40% of the 2,753 people who died at the World Trade Center remain unidentified.




USATODAY.com - Published




NYSE honors 9/11 victims with moment of silence

The New York Stock Exchange, with the help from members of the NYFD and the NYPD, held a moment of silence Wednesday to commemorate the 18th anniversary of the September 11 attacks. The moment of..




USATODAY.com - Published





Remains of 9/11 hero identified 18 years later

Michael Haub was a 34-year-old father of two and an FDNY firefighter when he was killed in the lobby of the south tower of the World Trade Center




CBS News - Published





FDNY to honor 22 firefighters who died of 9/11-related illnesses

The names of 22 firefighters will be added to the FDNY World Trade Center Memorial Wall in Brooklyn on Friday, according to FDNY.  




USATODAY.com - Published





4chan post about Epstein's death before news was public didn't come from FDNY, officials say

The FDNY said a 4chan post which claimed Jeffrey Epstein died well before it was first reported in the media did not come from the department.




USATODAY.com - Published




Another 9/11 firefighter dies of cancer

Nearly 18 years after 9/11, the death toll continues to rise. Richard Driscoll was the 200th member of the FDNY to die of a 9/11-related illness. His death comes as Sen. Rand Paul blocked a vote to..




CBS News - Published





NYC chopper crash kills one

The New York City Fire Department is responding to a report of a helicopter crash on the roof of a skyscraper in midtown Manhattan not far from Time Square. FDNY says the pilot has died. (June 10)  




USATODAY.com - Published




UPDATE: Pilot Dead After Helicopter Crashes Onto Roof Of Manhattan Building

New York Fire Department officials said a helicopter crashed into a skyscraper on 7th Avenue in Manhattan on Monday, which killed the pilot and started a fire which halted traffic in midtown on Monday,..




WorldNews - Published





Helicopter crashes into New York building: Fire Department

A helicopter crashed into a building on Seventh Avenue in midtown Manhattan on Monday, the New York Fire Department said.




Reuters - Published