Robert O'Brien
Disambiguation page providing links to topics that could be referred to by the same search term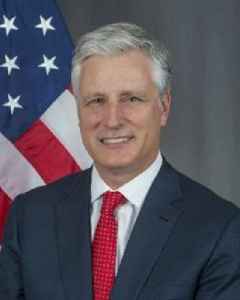 Robert O'Brien
may refer to:
Robert O'Brien (artist), from British Hong Kong
Robert O'Brien (canoeist)
Robert O'Brien (executive) (1907–1997), Hollywood businessman
Robert O'Brien (1908–1987), American
Robert O'Brien, former Air Secretary
Robert C. O'Brien, US National Security Advisor
Robert C. O'Brien (author) (1918–1973), US journalist and children's book author
Bob O'Brien, baseball player
Bob O'Brien (basketball) (1927–2008)
Trump not verbally briefed on Russia bounty matter: WH

[NFA] White House national security adviser Robert O'Brien on Wednesday said that President Donald Trump was not verbally briefed on a reported Russian effort to pay the Taliban to kill U.S. soldiers..
Credit: Reuters Studio Duration: 03:10
Published
Protests in Hong Kong as U.S. warns of sanctions

Thousands of people on the streets again, as international concern rises over Beijing's plans to impose a security law in Hong Kong
Credit: Reuters Studio Duration: 01:34
Published
WH limits travel to U.S. from Brazil due to coronavirus

The White House announced Sunday it will suspend travel to the U.S. from Brazil, after the South American nation became the world No. 2 hot spot for coronavirus cases. This report produced by Chris..
Credit: Reuters Studio Duration: 01:07
Published
You Might Like



CIA official chose not to tell Trump of Russia bounty report, top adviser claims

The US national security adviser said a CIA official tasked with briefing the president decided not to tell him about reports that Russia paid bounties to the Taliban for killing American soldiers..




WorldNews - Published





White House Dismisses Reports of Bounties, but Is Silent on Russia

Robert C. O'Brien, the national security adviser, told Fox News that President Trump knew nothing about the reports because the briefer "decided not to" share unverified intelligence with him.




NYTimes.com - Published





Trump adviser blames left-wing for violence despite warning pointing to both sides

As nationwide protests over the weekend turned violent in response to the death of George Floyd in Minneapolis, President Donald Trump's national security adviser continued to place blame solely on the..




WorldNews - Published





Trump will not invoke control of National Guard amid protests - adviser

The Trump administration will not invoke federal authority over the National Guard for now, National Security Adviser Robert O'Brien said on Sunday as protests flared in multiple U.S. cities..




Reuters India - Published

Also reported by •Reuters


Trump will not activate federal troops for now amid protests: NSA Robert O'Brien

The Trump administration will not invoke federal authority over the National Guard for now, National Security Adviser Robert O'Brien said on Sunday as protests continued in multiple U.S. cities after..




Reuters India - Published

Also reported by •Reuters


China's aggressive push for Hong Kong national security laws could lead to US sanctions, White House says

White House national security adviser Robert O'Brien said on Sunday that China's aggressive move to force national security laws on Hong Kong may result in US sanctions. Speaking to NBC News'...




WorldNews - Published

Also reported by •Reuters India •Reuters


U.S. hopes for in-person G7 summit end of June: White House

Any in-person meeting of Group of Seven leaders will take place at the end of June, White House national security adviser Robert O'Brien said on Sunday.




Reuters - Published




China legislation on Hong Kong could lead to U.S. sanctions, White House says

China's proposed national security legislation for Hong Kong could lead to U.S. sanctions and threaten the city's status as a financial hub, White House National Security Adviser Robert O'Brien said on..




Reuters - Published

Also reported by •Reuters India


Trump's national security advisor to attend Russia's May 9 Victory Day parade

U.S. National Security Advisor Robert O'Brien will travel to Moscow to attend Russia's World War Two Victory Day celebrations in May, U.S. ambassador John Sullivan was cited as saying on Thursday by..




Reuters - Published





China's virus response likely cost world two months: White House's O'Brien

China did not initially handle the coronavirus outbreak well, likely costing the world two months when it could have prepared and dramatically limited the outbreak, Robert O'Brien, the White House..




Reuters - Published




U.S.'s O'Brien says Chinese virus response likely cost world two months

China did not initially handle the coronavirus outbreak properly and this likely cost the world two months when it could have prepared and dramatically curtailed the outbreak, U.S. National Security..




Reuters - Published




Under O'Brien, N.S.C. Carries Out Trump's Policy, but Doesn't Develop It

President Trump's fourth national security adviser says he is restoring a neutral "process," but the president's tweets come first.




NYTimes.com - Published





Coronavirus could impact Chinese purchases of U.S. farm goods: U.S. official

The coronavirus outbreak could reduce Chinese purchases of U.S. agricultural products this year under the Phase 1 trade deal signed by the countries, White House national security adviser Robert..




Reuters - Published




Trump's national security adviser says coronavirus could impact U.S.-China trade deal: CNN

U.S. President Donald Trump's national security adviser, Robert O'Brien, acknowledged that the coronavirus outbreak could impact the Phase One trade deal between the United States and China, a CNN..




Reuters - Published




Trump, Pence attend dignified transfer of 2 soldiers killed in Afghanistan

"These were fallen heroes and we were close by and the president wrapped his rally early so he could come," Trump adviser Robert O'Brien said.




USATODAY.com - Published





China not embracing U.S. help on coronavirus, Americans in next-door Kazakhstan

China has been more transparent about the coronavirus than it has been in previous crises but Beijing has not yet accepted a U.S. offer of help to contain the epidemic, White House national security..




Reuters - Published




China has not yet accepted U.S. help with coronavirus: White House adviser

China has been more transparent about the coronavirus than it has been in previous crises but Beijing has not yet accepted a U.S. offer of help to contain the epidemic, White House national security..




Reuters - Published




White House says U.S. has asked North Korea to resume talks: Axios

White House national security adviser Robert O'Brien said the United States had reached out to North Korea seeking to resume talks, according to an interview published on Sunday by Axios.




Reuters - Published




US denies visa to Iranian Foreign Minister Zarif ahead of UN Security Council meeting

"I don't think Secretary Pompeo thought that this was the right time for Mr. Zarif to come," said national security adviser Robert O'Brien.




USATODAY.com - Published





White House: Iran retaliation for Soleimani killing would be poor decision

White House national security adviser Robert O'Brien said on Friday that any Iranian retaliation in response to the U.S. killing of Iranian military commander Qassem Soleimani would be a "very poor..




Reuters - Published




U.S. promises action on any North Korea missile test: White House

The United States would be very disappointed if North Korea tested a long-range or nuclear missile and would take appropriate action as a leading military and economic power, White House national..




Reuters - Published




U.S. monitoring North Korea closely, finds situation concerning: White House

The United States is monitoring North Korea's actions closely and finds the situation there concerning but there are open lines of communications between the two countries, White House national..




Reuters - Published




U.S. National Security Adviser warns UK about allowing Huawei in 5G: FT

U.S. National Security Adviser Robert O'Brien has warned UK about allowing China's Huawei Technologies Co Ltd [HWT.UL] into its 5G telecommunications networks, saying such a move would pose a risk to..




Reuters - Published





Trump pays respects to Army officers killed in Afghanistan

DOVER AIR FORCE BASE, Del. — President Donald Trump paid respects Thursday to a pair of Army officers who were killed in a helicopter crash in Afghanistan earlier this week. The president and first..




WorldNews - Published





Turkey should scrap Russian missile system or face U.S. sanctions: White House official

The United States is very upset about Turkey's purchase of Russian missile defense systems and could impose sanctions on Ankara if it does not "get rid" of them, White House National Security Adviser..




Reuters - Published





Full transcript of "Face the Nation" on November 10, 2019

On this "Face the Nation" broadcast, Senator John Kennedy and Rep. Eric Swalwell join us to discuss the impeachment inquiry into Donald Trump. We talk with National Security Adviser Robert O'Brien on..




CBS News - Published




Transcript: Robert O'Brien on "Face the Nation"

The following is a transcript of an interview with National Security Adviser Robert O'Brien on "Face the Nation"




CBS News - Published





National security adviser says U.S. "concerned" about war crimes in Syria despite Erdogan visit to White House

National Security Adviser Robert O'Brien says the idea that the United States greenlighted Turkey's offensive on Kurdish forces in Syria is "false."




CBS News - Published





Mike Pence's mission to Turkey could be his most significant yet

Vice President Mike Pence departs for Turkey to undertake arguably his most significant mission yet, seeking to halt a weeklong assault on Syrian Kurds begun after President Donald Trump withdrew US..




WorldNews - Published





Turkish foreign minister, U.S. national security adviser to meet in Ankara on Wednesday: ministry

Turkish Foreign Minister Mevlut Cavusoglu will meet with U.S. National Security Adviser Robert O'Brien at 1245 GMT in Ankara on Wednesday, Turkey's foreign ministry said, as Turkey pressed on with its..




Reuters - Published





Exclusive: Trump's new national security adviser plans to return NSC to traditional coordinating role

President Donald Trump's new national security adviser, Robert O'Brien, said on Thursday he plans to reduce the size of the National Security Council by about a third in coming months and limit the..




Reuters - Published




Robert O'Brien 'Looks the Part,' but Has Spent Little Time Playing It

Mr. O'Brien, President Trump's new national security adviser, is said to bring milder views and a sunnier personality to the job than John R. Bolton.




NYTimes.com - Published