Game
Structured form of play, for entertainment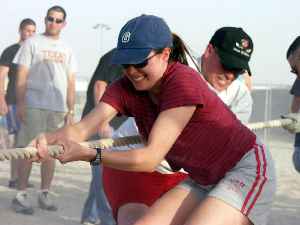 A game is a structured form of play, usually undertaken for entertainment or fun, and sometimes used as an educational tool. Games are distinct from work, which is usually carried out for remuneration, and from art, which is more often an expression of aesthetic or ideological elements. However, the distinction is not clear-cut, and many games are also considered to be work or art.


On the distorted TV feed, The Supreme Court president spoke like a Dalek, but she only needed to say one word: exterminate, exterminate, exterminate
Game. Set. Match. Caught. Bowled. The Chequered Flag. The White Flag. The Towel. The Lot. In every single way, in every single aspect of the case, the government was defenestrated with explosive force
Independent - Published
No Scottish Premiership tickets below £20 - Cost of the Game study
Football fans cannot buy a ticket for a Scottish Premiership game for less than £20, a wide-ranging BBC Scotland study of football club prices has found.
BBC News - Published
'Argentina won't live with our A-game' - Scotland
Argentina "won't be able to live" with Scotland if Shelley Kerr's side "bring their A-game" into Wednesday's World cup showdown, according to forward Erin Cuthbert.
BBC News - Published
Time, money, access: A baseball hotbed for a century, Tampa evolves as game's economic winds shift
Tampa has been talent-rich in baseball for nearly a century, but the city's latest stars also symbolize a greater demographic shift in the sport.
USATODAY.com - Published
Search this site and the web: