West Africa
Westernmost region of the African continent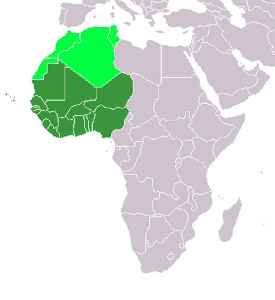 West Africa is the westernmost region of Africa. The United Nations defines Western Africa as the 16 countries of Benin, Burkina Faso, Cape Verde, The Gambia, Ghana, Guinea, Guinea-Bissau, Ivory Coast, Liberia, Mali, Mauritania, the Niger, Nigeria, Senegal, Sierra Leone and Togo, as well as the United Kingdom Overseas Territory of Saint Helena, Ascension and Tristan da Cunha. The population of West Africa is estimated at about 362 million people as of 2016, and at 381,981,000 as of 2017, to which 189,672,000 are female, and 192,309,000 male.


Texas couple sentenced for enslaving West African girl for more than 16 years
Prosecutors say the couple — members of "wealthy and powerful Guinean families" — forced the victim to clean and cook.
USATODAY.com - Published
'I'm going to die': Survivor recounts Mali ethnic massacre
BAMAKO, Mali (AP) — The sun had yet to rise and Ada Diallo was preparing for morning prayers when gunfire rang out in her village in central Mali. The 55-year-old ran through the darkness to the home..
WorldNews - Published
Following Africa's gold smugglers to Dubai
Billions of dollars worth of gold is being smuggled out of the African bush every year and funneled through the UAE. A Reuters analysis shows how it's surged, and the severe security and health impacts..
Credit: Reuters Studio Duration: 02:49Published
Glitz and glamour on show at Nigeria polo contest
The latest fashion trends were on display when Lagos recently hosted West Africa's biggest polo tournament. Serena Chaudhry reports.
Credit: Reuters Studio Duration: 01:49Published
Deadly Ebola Outbreak in Congo Surpasses 1,000 Cases
According to the country's health ministry, since the epidemic started, there have been 1,009 cases of the disease.
Credit: Newsy Studio Duration: 01:03Published
WHO Says Ebola Outbreak In Congo Could Be Over By September
The organization's director-general said the number of new cases being reported each week is down since January.
Credit: Newsy Studio Duration: 01:09Published
Search this site and the web:
You Might Like