Larry Kudlow
American economist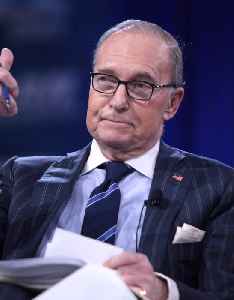 Lawrence Alan Kudlow is the Director of the United States National Economic Council. He assumed that role in 2018 after previous employment as a financial analyst and a television financial news host.


Kayleigh McEnany tests positive for COVID-19

[NFA] White House Press Secretary Kayleigh McEnany is the latest White House staffer to test positive for the coronavirus, following an outbreak that has also infected the president, the first lady,..
Credit: Reuters - Politics Duration: 02:06
Published
Pelosi 'hopeful' COVID-19 stimulus deal will be reached

U.S. House Speaker Nancy Pelosi said on Tuesday she hoped to have a coronavirus aid deal with the White House this week, after speaking with Treasury Secretary Steve Mnuchin for almost an hour. Colette..
Credit: Reuters - Politics Duration: 01:33
Published
You Might Like



White House economic adviser Larry Kudlow on "The Takeout" — 9/11/2020

White House economic adviser Larry Kudlow joins Major to respond to Bob Woodward's new book "Rage," the debate over another economic stimulus package, and systemic racism in the U.S., on this week's..




CBS News - Published




What's the status of a second $1,200 stimulus check?

White House economics adviser Larry Kudlow says President Trump is backing a revised stimulus package.




CBS News - Published





Trump has approved revised COVID-19 relief package

U.S. President Donald Trump has approved a revised COVID-19 relief package in the negotiations with congressional Democrats, White House's National Economic Council Director Larry Kudlow said Friday...




WorldNews - Published





Larry Kudlow says Trump has "approved" a "revised" stimulus package

"Covid Relief Negotiations are moving along. Go Big!" the president tweeted Friday morning, after canceling talks.




CBS News - Published





Kudlow says Trump "led wisely" in response to coronavirus

White House chief economic adviser Larry Kudlow spoke with CBS News' Major Garrett for this week's episode of "The Takeout" podcast.




CBS News - Published





White House on jobs: 'The numbers are going to slow' but we're in a 'durable recovery'

After the Labor Department released the August jobs report on Friday, White House advisors fanned out to argue that the V-shaped recovery was still happening. "I think we're in a V-shaped..




WorldNews - Published





Melania host recovery event, Kudlow talks sobriety

First Lady Melania Trump host a roundtable discussion at the White House Thursday on workplace sobriety and recovery. (Sept. 3)  




USATODAY.com - Published





Larry Kudlow backs Mnuchin call not to disclose recipients of business loans from coronavirus stimulus

Kudlow said when Mnuchin promised transparency he meant "transparency of the process," not who was getting the money.




USATODAY.com - Published





Kudlow says White House not concerned about a second coronavirus wave: WSJ

White House economic adviser Larry Kudlow said on Friday the administration of U.S. President Donald Trump is not concerned about a second wave of coronavirus cases, the Wall Street Journal reported.




Reuters - Published





Trump 'miffed' with China, trade deal now less important: adviser

White House economic adviser Larry Kudlow said on Tuesday that President Donald Trump is so "miffed" with Beijing over the novel coronavirus and other matters that the U.S.-China trade deal is not as..




Reuters - Published




Kudlow says Trump administration looking at 'back to work bonus'

White House economic adviser Larry Kudlow said on Tuesday that President Donald Trump's administration is looking carefully at a potential "back to work bonus" to encourage Americans who had been laid..




Reuters - Published





Trump wants payroll tax holiday to mitigate coronavirus economic pain: Kudlow

White House economic adviser Larry Kudlow said on Tuesday that President Donald Trump wants a payroll tax holiday for U.S. workers in the hopes of staunching economic pain caused by the coronavirus..




Reuters - Published




Trump wants to see 7.6% payroll tax cut: White House economic director

White House economic adviser Larry Kudlow said on Tuesday that President Donald Trump wants to see a 7.6% cut in the payroll tax, hoping it will help staunch economic pain caused by the coronavirus..




Reuters - Published





U.S.-China trade deal not falling apart: White House adviser

The U.S.-China trade deal reached in January is absolutely not falling apart and the two countries are still working on trade, White House adviser Larry Kudlow said on Friday.




Reuters - Published





White House talking to Congress about more coronavirus economic relief, Kudlow says

The White House has begun informal talks with Republicans and Democrats in Congress about next steps on coronavirus relief legislation, a top economic adviser to President Donald Trump said on Sunday.




Reuters - Published





Trump aide: 'These are heartbreaking numbers'

Larry Kudlow, a top economic aide to President Donald Trump said "these are heart breaking numbers," after the Labor Department reported the U.S. unemployment rate hit 14.7% in April. (May 8)  




USATODAY.com - Published





White House adviser will not rule out more money for states, small businesses

White House economic adviser Larry Kudlow said on Sunday he would not rule out anything in a new relief bill to ease the "tremendous hardships" of the coronavirus outbreak, including more money for..




Reuters - Published




Next round of coronavirus business aid to be as fair as possible: Kudlow

White House economic adviser Larry Kudlow on Wednesday said the Trump administration would try to fairly distribute the next round of aid for small businesses hurt by the coronavirus outbreak, saying..




Reuters - Published




U.S. economy will eventually reopen but with big changes: Kudlow

The Trump administration is aiming to reopen the U.S. economy when the nation's top health experts give the go-ahead, but Americans' lives will be drastically different, White House economic adviser..




Reuters - Published





White House considering U.S. Treasury coronavirus bond: Kudlow

White House advisers have been discussing the possibility of a coronavirus-related U.S. Treasury bond, President Donald Trump's economic adviser Larry Kudlow said on Monday.




Reuters - Published





White House's Kudlow: problem with Senate bill's language 'will be worked out'

White House economic adviser Larry Kudlow told Fox News in an interview on Wednesday that a problem with language on jobless benefits in a U.S. Senate coronavirus aid bill "will be worked out."




Reuters - Published





U.S. coronavirus stimulus to be worth 'north of $2 trillion': White House aide

White House economic adviser Larry Kudlow on Saturday said he expects the coronavirus stimulus package being negotiated by the U.S. Senate would be worth about $1.3 trillion or $1.4 trillion,..




Reuters - Published





Trump considering economic stimulus to offset coronavirus impacts, White House adviser says

Senior economic adviser Larry Kudlow said Trump is considering an economic stimulus, though he offered few specifics what that plan might look like.




USATODAY.com - Published





WH urges calm as markets slide over virus fears

White House economic adviser Larry Kudlow is urging investors and the public to remain calm as US stocks fall sharply and are on track for their worst week since October 2008 as the spreading..




USATODAY.com - Published





White House adviser: More U.S. coronavirus cases likely but won't necessarily 'skyrocket'

The number of additional coronavirus cases in the United States is likely to increase but that does not mean they will "skyrocket" in North America, White House economic adviser Larry Kudlow said on..




Reuters - Published




Trump administration eyes permanent tax cuts, 10% middle class tax cuts: Kudlow

The Trump administration is seeking to unveil its follow-up tax cut plan in September that would likely make a number of tax cuts permanent and possibly a 10% tax cut for middle class Americans, White..




Reuters - Published




China rejects US charge of lack of transparency in sharing coronavirus info

BEIJING: China on Friday rejected US allegations that it is not transparent enough in sharing the details about the coronavirus outbreak, saying it was working with the international community in an..




WorldNews - Published





White House economic adviser does not see U.S. economic 'disaster' from coronavirus

The coronavirus outbreak that began in mainland China will likely have some impact on U.S. supply chains, but the effects will probably not be catastrophic, White House economic adviser Larry Kudlow..




Reuters - Published




No decision on whether to limit intel-sharing with UK over Huawei: Kudlow

White House economic adviser Larry Kudlow said on Thursday that the U.S. government has not yet decided whether to curb intelligence sharing with Britain over its decision to give Chinese telecoms..




Reuters - Published




Kudlow says jobs, trade not part of U.S. coronavirus briefings

White House economic adviser Larry Kudlow on Thursday said the impact of the fast-moving coronavirus on jobs and trade between the United States and China has not been part of U.S. discussions with..




Reuters - Published




Restrictions for airlines flying to China under discussion: White House's Kudlow

The White House is considering further restrictions on U.S. airlines flying to and from China in addition to voluntary restrictions that the companies have put into place, President Donald Trump's..




Reuters - Published




White House economic adviser says he would like to see bolder Fed

White House economic adviser Larry Kudlow said on Wednesday that he would like the Federal Reserve to be bolder, hours after the U.S. central bank announced it would keep interest rates steady.




Reuters - Published





Trump taps senior aide who defied impeachment subpoena for 5G post

WASHINGTON — U.S. President Donald Trump named Robert Blair to be the special representative for international telecommunications policy and work on the administration's 5G efforts under White..




WorldNews - Published

Also reported by •Reuters


Trump taps senior aide to work on 5G: White House

U.S. President Donald Trump on Monday named Robert Blair to be the Special Representative for International Telecommunications Policy and work on the administration's 5G efforts under Larry Kudlow, the..




Reuters - Published




Kudlow: U.S.-China deal 'absolutely' done, U.S. exports to China will double

The so-called Phase One trade deal between Washington and Beijing has been "absolutely completed," a top White House adviser said on Monday, adding that U.S. exports to China will double under the..




Reuters - Published





U.S. may impose tariffs on Chinese imports if any disputes: Kudlow

The United States could levy tariffs against China if there are any disputes, White House economic adviser Larry Kudlow said about the U.S.-China "phase one" trade agreement announced on Friday.




Reuters - Published





Trump will make final call on China tariffs, likes direction of talks: Kudlow

Top White House economic adviser Larry Kudlow said on Friday that a Dec. 15 deadline is still in place to impose a new round of U.S. tariffs on Chinese consumer goods, but President Donald Trump likes..




Reuters - Published





Kudlow touts 'spectacular' jobs report

White House economic adviser Larry Kudlow praised the new jobs numbers released Friday, calling it "a heck of a good report." The report showed unemployment fell to a 50-year-low as hiring in the U.S...




USATODAY.com - Published





U.S. and China 'getting close' to trade deal: White House economic adviser

The United States and China are getting close to a trade agreement, White House economic adviser Larry Kudlow said on Thursday, citing what he called very constructive talks with Beijing about ending a..




Reuters - Published





Asian shares rise as Kudlow comments lift trade hopes

Asian stocks jumped on Friday, propelled by a record S&P 500 finish and White House comments suggesting Washington and Beijing were close to striking a trade deal, reviving hopes the tariff war may..




Reuters - Published





Open: This is "Face the Nation," May 20th

This week on "Face the Nation," moderator Margaret Brennan interviews Houston Police Chief Art Acevedo, Sen. Mark Warner and White House economic adviser Larry Kudlow. Plus, author and historian Jon..




CBS News - Published