Sebastian Vettel
German racing driver in Formula 1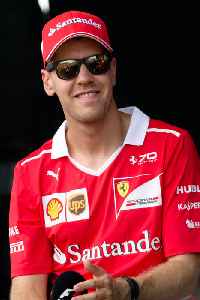 Sebastian Vettel is a German racing driver currently driving in Formula One for Scuderia Ferrari. He is a four-time Formula One World Champion, having won championships in 2010, 2011, 2012 and 2013 with Red Bull Racing. He is regarded by fellow and former drivers as one of the greatest Formula One drivers in the history of the sport. Leaving Red Bull for the 2015 season, Vettel initially signed a three-year contract with Ferrari, which was later extended until the end of 2020.


Vettel still has confidence in SF90
Both Ferrari's were beaten by Max Verstappen and the two Mercedes to podium finishes with only team orders saving Vettel from his new teammate Leclerc overtaking him. His lack of speed is...
WorldNews - Published
Sebastian Vettel: Charles Leclerc will put me under pressure all season
Sebastian Vettel says his new Ferrari team-mate Charles Leclerc will push him hard throughout this season.
BBC News - Published
Italian Focuses On Vettel
According to Thisis1.com, "Mattia Binotto says Ferrari is not panicking after a bad start to the 2019 season. The entire paddock was stunned in Melbourne to discover that, after the Maranello team's..
Credit: Wochit News Duration: 00:33Published
Valtteri Bottas Wins Opening F1 Race
Max Verstappen grab final place on the podium with brand new power unit Honda, Ferrari driver Sebastian Vettel and new team-mate Charles Leclerc set fourth and fifth respectively, both are struggled..
Credit: Wochit News Duration: 00:35Published
Melbourne, drivers and fans get ready for new F1 season
The 2019 Formula One teams meet the fans in Melbourne before Sunday's season start
Credit: Reuters - Sports Duration: 01:12Published
Verstappen Talks About 2019 Title
According to the Thisisone.com, "Max Verstappen is not ready to declare himself a real challenger for the 2019 title. His boss at Red Bull, Dr Helmut Marko, has named the Dutchman alongside Lewis..
Credit: Wochit News Duration: 00:46Published
Red Bull closing gap to Mercedes and Ferrari - Horner
Aston Martin Red Bull boss Christian Horner says the team's new Honda engines are making them more competitive.
Credit: Reuters - Sports Duration: 00:47Published
Kyle Busch Is Never Leaving His Team
Sebastian Vettel stands at a career crossroads as he enters his fifth season at Ferrari. It's at this point that Michael Schumacher hit his winning stride and notched up five world championships in a..
Credit: Wochit News Duration: 00:46Published
Sebastian Vettel Isn't Retiring
Written by Melanie van de Brug Sebastian Vettel says he has no plans to retire. At the end of last year, the German was criticised for making mistakes that contributed to Ferrari not winning the world..
Credit: Wochit News Duration: 00:45Published
Ferrari misses out on a podium place at F1 Australian GP
The Ferraris were touted as the fastest cars on the F1 circuit when Sebastian Vettel arrived with the intention of winning his third consecutive Australian Grand Prix title. They'll leave without a..
USATODAY.com - Published
Don't write off Ferrari just yet - all you need to know about the Australian GP
A crest-fallen Sebastian Vettel would do well to remember he won this race from a similar position last year.
BBC News - Published
Vettel chases 3rd straight Aussie GP win to equal Schumacher
Two-time defending champion Sebastian Vettel is chasing some career marks set by Michael Schumacher at the Australian F1 Grand Prix and it doesn't really bother him to be starting from the second row..
USATODAY.com - Published
GB's Hamilton on pole in Australia
Lewis Hamilton takes pole position at the season-opening Australian Grand Prix, with a big margin to the Ferrari of Sebastian Vettel.
BBC News - Published
Australian GP: Lewis Hamilton tops Sebastian Vettel in season's first practice
MELBOURNE: World champion Lewis Hamilton made a mockery of his claim that Ferrari would be half a second quicker at the Australian Grand Prix by clocking the fastest time in opening practice on Friday...
WorldNews - Published
You Might Like