Road
A demarcated land route with a suitable surface between places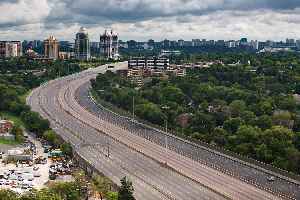 A road is a thoroughfare, route, or way on land between two places that has been paved or otherwise improved to allow travel by foot or some form of conveyance, including a motor vehicle, cart, bicycle, or horse.


Malaysian Belt and Road project tells some staff to work from home in China's Wuhan
The contractor for a Malaysian rail project that is part of China's 'Belt and Road' initiative has advised some Chinese staff to work remotely while a coronavirus outbreak delays their return from..
Reuters - Published
Myanmar, China ink deals to accelerate Belt and Road as Xi courts an isolated Suu Kyi
China and Myanmar inked dozens of deals on Saturday to speed up infrastructure projects in the Southeast Asian nation, as Beijing seeks to cement its hold over a neighbor increasingly isolated by the..
Reuters - Published
M32 crash: Man killed after getting out of car on motorway and being hit by another vehicle
Road closed in both directions after five-car collision near Bristol
Independent - Published
U.N. Security Council overcomes Chinese veto threat to renew Afghanistan mission
The United Nations Security Council unanimously agreed on Tuesday to extend a U.N. political mission in Afghanistan after last-minute talks overcame a Chinese threat to veto if there was no reference..
Reuters - Published
China signals veto in standoff with U.S. over Afghanistan U.N. mission: diplomats
China and the United States are deadlocked over a U.N. Security Council resolution to extend the world body's political mission in Afghanistan, with Beijing signaling it will cast a veto because there..
Reuters - Published
UK weather: Met Office issues warnings as torrential rain threatens to cause travel disruption
Road closures, train cancellations and flooding possible with severe warnings
Independent - Published
China Belt and Road power investments surge from 2014-2019: study
Chinese equity investment in solar, wind and coal power projects in Belt and Road countries has surged from 2014 to 2019, with planned capacity up more than tenfold compared to the previous five-year..
Reuters - Published
Moscow Residents Protest Highway Project They Say Could Trigger 'Second Chernobyl'
Several hundred protesters gathered Monday in the south of Moscow outside residential housing blocks that overlook a nuclear waste site, Deutsche Welle reports. Their signs read "We want to live!" and..
WorldNews - Published
Deaths on German roads increased in 2018
Road deaths in Germany increased in 2018 after two years of decline. The largest increase were among cyclists, and with the introduction of e-scooters, advocacy groups are calling for change. ......
WorldNews - Published
Mumbai rains: Road neglected by BMC caves in at Chandivali
Shockingly the locals informed and complained about the big cracks on road, but the BMC ignored it, putting 500 lives in danger.
DNA - Published
Great Bradley runner Claire Taylor: Road not gritted 'in error'
Claire Taylor was catapulted 100ft when she was struck by a car on an icy road.
BBC News - Published
You Might Like