Fenway Park
Baseball stadium in Boston, Massachusetts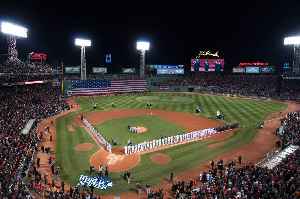 Fenway Park is a baseball park located in Boston, Massachusetts near Kenmore Square. Since 1912, it has been the home for the Boston Red Sox, the city's American League baseball team, and since 1953, its only Major League Baseball (MLB) franchise. It is the oldest ballpark in Major League Baseball. Because of its age and constrained location in Boston's dense Fenway–Kenmore neighborhood, the park has been renovated or expanded many times, resulting in quirky heterogeneous features including "The Triangle" (below), Pesky's Pole, and the Green Monster in left field. It is the fourth-smallest among MLB ballparks by seating capacity, second-smallest by total capacity, and one of eight that cannot accommodate at least 40,000 spectators.


Davis stops record skid at 0 for 54, O's top Red Sox 9-5
Chris Davis ended his record slump at 0 for 54 and drew applause from rival fans at Fenway Park, getting three hits and driving in four runs as the Baltimore Orioles beat the Boston Red Sox 9-5 to end..
USATODAY.com - Published
Juvenile was operating the drone that flew over Fenway Park in Red Sox game, police say
A juvenile was operating the drone that flew over Fenway Park during Thursday night's game between the Boston Red Sox and Toronto Blue Jays, Boston police said.
USATODAY.com - Published
U.S. FAA probes drone sighting over baseball game at Boston's Fenway Park
The U.S. Federal Aviation Administration said on Friday it was investigating reports that a drone flew over Boston's Fenway Park during a baseball game, and the drone's manufacturer said the user..
Reuters - Published
Drone flies over Fenway Park as Boston Red Sox get walk-off win over Toronto Blue Jays
An unidentified drone hovered over the playing field at Fenway Park while the Boston Red Sox earned a walk-off win Thursday night.
USATODAY.com - Published
Red Sox raise 4th World Series banner in 15 years
Boston Red Sox celebrate 4th World Series title in 15 years at Fenway Park before losing home opener
USATODAY.com - Published
Search this site and the web:
You Might Like