Ketchikan, Alaska
City in Alaska, United States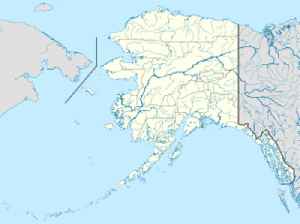 Ketchikan is a city in and the borough seat of the Ketchikan Gateway Borough of Alaska. It is the state's southeasternmost major settlement. Downtown Ketchikan is a National Historic District. With a population at the 2010 census of 8,050, it is the fifth-most populous city in the state, and tenth-most populous community when census-designated places are included. The surrounding borough, encompassing suburbs both north and south of the city along the Tongass Highway, plus small rural settlements accessible mostly by water, registered a population of 13,477 in that same census. Estimates put the 2017 population at 13,754 people. Incorporated on August 25, 1900, Ketchikan is the earliest extant incorporated city in Alaska, because consolidation or unification elsewhere in Alaska resulted in dissolution of those communities' city governments. Ketchikan is located on Revillagigedo Island, so named in 1793 by Captain George Vancouver.


Taquan Air suspends flights after second deadly crash
For the second time in a week, a small airline in Alaska has suspended all flights after a deadly crash involving one of its planes. Two people were killed when a plane went down in Ketchikan. Jonathan..
CBS News - Published
Another Alaska floatplane crash kills 2 people
Two people are dead after a small Alaska-based airline's third crash in less than a year. The floatplane crash Monday is the second deadly incident for Taquan Air in a week. The plane went down in the..
CBS News - Published
Mid-Air Crash In Alaska, Search For Victims Ends
Reuters reports Searchers found the bodies of the last two Alaska seaplane crash victims on Tuesday evening, after a hunt through the debris and frigid waters following a mid-air collision that killed..
Credit: Wochit News Duration: 00:39Published
NTSB to probe fatal Alaska mid-air crash
Federal investigators are due in Alaska on Tuesday to try to find out why two sightseeing planes collided in mid-air over open water during daylight hours, killing at least four tourists. The NTSB's..
Credit: Reuters Studio Duration: 00:48Published
Taquan Air floatplane crashes near Ketchikan for second time in a week; 2 dead
Two people were killed Monday when a Taquan Air floatplane crashed near Ketchikan – the second deadly accident in a week with the regional airline.
USATODAY.com - Published
Alaska crews recover larger crashed plane
Responders in Ketchikan, Alaska recovered the wreckage of the larger of the two planes that collided this week, according to federal accident investigators. It was lifted onto a barge. Officials say..
USATODAY.com - Published
Crews searching for 2 missing after deadly crash in Alaska
At least four people were killed when two sightseeing planes collided near the town of Ketchikan. Crews are still searching for two others who went missing. Jonathan Vigliotti reports.
CBS News - Published
NTSB to investigate collision of floatplanes near Ketchikan, Alaska; at least 4 dead, 2 missing
At least four people died and 10 were injured after two floatplanes crashed in the water near the southeast Alaska town of Ketchikan.
USATODAY.com - Published
NTSB to investigate Alaska deadly plane crash
A team of federal accident investigators is expected to arrive in Alaska Tuesday to try to piece together what caused a deadly midair collision between two sightseeing planes. Four people were killed..
WorldNews - Published
Deadly seaplane collision in Ketchikan Alaska
Two planes carrying sightseers collide near Ketchikan, with at least four people dead and two missing.
BBC News - Published
Two floatplanes crash near Ketchikan, Alaska; 6 people missing, Coast Guard says
Rescue crews are searching for survivors after two floatplanes crashed in the water near the southeast Alaska town of Ketchikan.
USATODAY.com - Published
You Might Like