Vampire Weekend
American indie rock band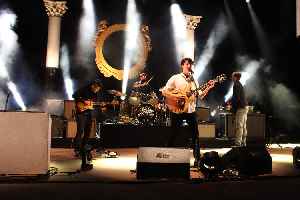 Vampire Weekend is an American indie rock band from New York City, formed in 2006 and currently signed to Columbia Records. The band was formed by lead vocalist and guitarist Ezra Koenig, multi-instrumentalist Rostam Batmanglij, drummer Chris Tomson, and bassist Chris Baio. The band's first album Vampire Weekend (2008)—which included the singles "Mansard Roof", "A-Punk", "Oxford Comma", "Cape Cod Kwassa Kwassa", and "The Kids Don't Stand a Chance"—was acclaimed by critics for its world music influences. Their following album, Contra (2010), was similarly acclaimed and garnered strong commercial success. Their third studio album, Modern Vampires of the City (2013), won the group a Grammy Award for Best Alternative Music Album in 2014. Batmanglij departed the group in early 2016. The band's fourth album, Father of the Bride, was released in 2019, again winning Best Alternative Music Album at the 62nd Annual Grammy Awards, where it was also nominated for Album of the Year.


Bernie Sanders draws 3,000 with Vampire Weekend as Caucus Day approaches
The campaign announced it hit goal of knocking on 500,000 doors in January, two days before caucuses.
USATODAY.com - Published
Bernie Sanders and Vampire Weekend fill an arena.
Bernie Sanders closed out his night with a huge concert in Cedar Rapids, featuring Vampire Weekend.
NYTimes.com - Published
Vampire Weekend performs at Sanders event.
The group performed a short set at a campaign event.
NYTimes.com - Published
Grammy Awards 2020: List of nominees in major categories
Here is a list of nominees in the major categories for the 62nd annual Grammy Awards, which will be handed out on Sunday in Los Angeles:Album of the Year Bon Iver, "i, i"Lana Del Rey, "Norman Fucking..
WorldNews - Published
Glastonbury 2019: Vampire Weekend and The Proclaimers heat up day two
The US band play a surprise set, taking fan requests at the Park Stage on Saturday.
BBC News - Published
The best albums of 2019 so far, from Ariana Grande, Billie Eilish and more
Vampire Weekend, Carly Rae Jepsen and Tyler, the Creator returned with some of their best music yet in 2019's first half.
USATODAY.com - Published