Eastern Orthodox Church
Christian Church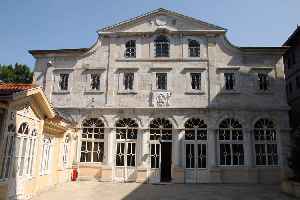 The Eastern Orthodox Church, officially the Orthodox Catholic Church, is the second-largest Christian church, with approximately 200–260 million baptised members. It operates as a communion of autocephalous churches, each governed by its bishops in local synods, although roughly half of Eastern Orthodox Christians live in Russia. The church has no central doctrinal or governmental authority analogous to the Bishop of Rome, but the Ecumenical Patriarch of Constantinople is recognised by all as primus inter pares of the bishops. As one of the oldest surviving religious institutions in the world, the Eastern Orthodox Church has played a prominent role in the history and culture of Eastern and Southeastern Europe, the Caucasus, and the Near East.


Top Russian Orthodox Church official says men more intelligent than women
A top official in the Russian Orthodox Church has sparked anger for saying men are more intelligent than women and clever females are "rare". Archpriest Dmitry Smirnov's comments have been..
WorldNews - Published
Georgians Urge Snap Elections In Second Night Of Protests
Protesters gathered outside Georgia's parliament for a second successive night of protests on Friday evening, demanding snap elections and the resignation of the country's interior minister, The..
WorldNews - Published
Pope Francis begins visit to Orthodox Bulgaria and North Macedonia
The Pope wants to improve relations with Orthodox leaders in Bulgaria and North Macedonia.
BBC News - Published
Also reported by •Reuters
Orthodox Christians celebrate Easter - in pictures
Orthodox Christians are celebrating Easter around the world, the week after fellow Christians.
BBC News - Published
Australia's most senior Greek Orthodox leader, Stylianos Harkianakis, dies aged 83
The most senior figure in the Greek Orthodox Church of Australia, Archbishop Stylianos Harkianakis, has died.
SBS - Published
Greece Allows First Crematorium In Defiance Of Orthodox Church
Greece has moved a step closer to opening its first crematorium, passing a decree that paves the way for a facility to be built in Athens despite persistent criticism from the Orthodox church, The..
WorldNews - Published
You Might Like