Starlink
Satellite constellation; space-based Internet service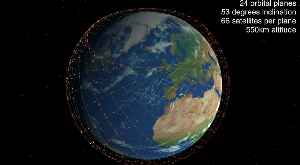 Starlink is a satellite constellation being constructed by American company SpaceX to provide satellite Internet access. The constellation will consist of thousands of mass-produced small satellites in low Earth orbit (LEO), working in combination with ground transceivers. SpaceX also plans to sell some of the satellites for military, scientific, or exploratory purposes.


You Might Like
SpaceX launches rocket with 60-satellite payload
SpaceX launches Falcon 9 rocket with 60-satellite payload for SpaceX's Starlink broadband network. First stage lands safely on pad. (April 22)  
USATODAY.com - Published
Starlink space display 'set to continue all week'
The 60 Starlink satellites launched by Elon Musk's SpaceX firm appear in a line crossing the night sky.
BBC News - Published
Falcon 9 Rocket With Starlink System Satellites to Be Launched Wednesday
WASHINGTON (Sputnik) - The Falcon 9 carrier rocket with satellites for the Starlink system will be launched on Wednesday, private US aerospace manufacturer SpaceX said on Twitter. ......
WorldNews - Published
Presidents Day, SpaceX Starlink launch, Daytona 500 restarts: 5 Things to know Monday
Presidents Day is here, the SpaceX Starlink launches, the Daytona 500 resumes and more news to start your Monday.
USATODAY.com - Published
SpaceX Starlink satellites could be 'existential threat' to astronomy
Huge constellations of satellites like SpaceX's Starlink could make ground-based astronomy impossible, and we're running out of time to deal with the problem ......
WorldNews - Published
SpaceX launches 60 more satellites in attempt to tone them down
SpaceX launched 60 more mini internet satellites late Monday, this time testing a dark coating to appease stargazers. It's a "first step" compromise between SpaceX and astronomers fearful of..
WorldNews - Published
SpaceX sends 60 more Starlink satellites into orbit
The California company's latest mission makes it the world's largest commercial satellite operator.
BBC News - Published
Also reported by •WorldNews •CBS News
Elon Musk's SpaceX launches 60 Starlink satellites, hitting major milestones in rocket reusability
SpaceX hit several major milestones with a launch of its next cluster of Starlink internet satellites on Monday morning from Cape Canaveral Air Force Station's launch complex 40.The launch, the..
WorldNews - Published
SpaceX set to launch another 60 Starlink internet satellites
Initial service is expected to begin next year with global connectivity expected in 2021
CBS News - Published
After SpaceX Starlink launch, a fear of satellites that outnumber all visible stars
By Shannon Hall Advertising Last month, SpaceX successfully launched 60 500-pound satellites into space. Soon amateur skywatchers started sharing images of those satellites in night skies, igniting an..
WorldNews - Published