Isle of Wight
County and island of England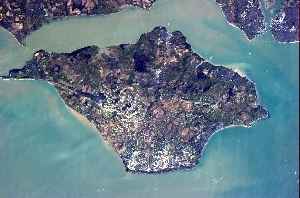 The Isle of Wight is a county and the largest and second-most populous island in England. It is in the English Channel, between 2 and 5 miles off the coast of Hampshire, separated by the Solent. The island has resorts that have been holiday destinations since Victorian times, and is known for its mild climate, coastal scenery, and verdant landscape of fields, downland and chines. The island is designated a UNESCO Biosphere Reserve.


UK tests drone to deliver medical supplies to remote areas

In the Isle of Wight, a successful trial that used a drone to deliver medical supplies from the mainland has implications for isolated communities everywhere.
Credit: Al Jazeera STUDIO Duration: 02:19
Published
UK makes tracing app U-turn for Google-Apple system

The British government will switch to Apple and Google technology for its test-and-trace app, ditching its current system in a U-turn for the troubled program. The BBC reported on Thursday the UK will..
Credit: Reuters Studio Duration: 01:50
Published
Matt Hancock explains decision to abandon NHSX app

The Government says it will abandon its efforts to develop its own coronavirus contact-tracing app in order to focus on technology from Apple and Google. At the Downing Street press conference Health..
Credit: ODN Duration: 01:45
Published
You Might Like



More than 16,000 sign 'Zoe's Law' mole-testing petition

It calls for mandatory testing of removed moles following the death of an Isle of Wight woman.




BBC News - Published





Isle of Wight to host Tour of Britain final stage in 2022

This year's event, which was due to take place in September, is cancelled because of coronavirus.




BBC News - Published




Coronavirus: Live-in care home staff 'would do it again'

Staff from an Isle of Wight care home slept in tents to protect its vulnerable residents.




BBC News - Published





Coronavirus: Isle of Wight hovercraft stops amid passenger face mask row

Anyone on public transport in England must wear a face covering under a new rule imposed on 15 June.




BBC News - Published





Coronavirus: Isle of Wight MP admits lockdown 'barbecue' visit

Tory Bob Seely says he did not know other people would be present when he visited a journalist.




BBC News - Published





More than half of IOW downloads Covid-19 contact tracing app

There are now enough residents who have downloaded the app for the trial to be effective.




BBC News - Published





Coronavirus: NHS virus-tracing app downloaded 55,000 times

The app is being trialled on the Isle of Wight and will be rolled out nationally if successful.




BBC News - Published





Isle of Wight sings We'll Meet Again for VE Day

People across the Isle of Wight sang We'll Meet Again on their doorsteps to mark VE Day.




BBC News - Published





Coronavirus: NHS contact tracing app trial begins on Isle of Wight amid hopes tracking can help lift lockdown

Ministers hope smartphone app could help with plans to allow some economic activity to resume




Independent - Published





First workers to trial UK virus tracing app

If the Isle of Wight trial is successful, the app could be available nationwide within weeks, ministers say.




BBC News - Published




Coronavirus: UK contact-tracing app is ready for Isle of Wight downloads

Isle of Wight council staff and healthcare workers will be invited to start testing app on Tuesday.




BBC News - Published




NHS coronavirus tracing app 'will have unintended consequences', senior official says

'We don't know exactly how it will work', admits head of NHSX before app is rolled out on Isle of Wight




Independent - Published





Isle of Wight sea eagles spread their wings

Data from the tracker attached to one eagle shows it flew 265 miles over four days.




BBC News - Published





Britain to trial new coronavirus tracing system

Britain will trial a new coronavirus tracing programme next week on the Isle of Wight, just off the south coast of England, cabinet minister Michael Gove said on Sunday as the government looks at how..




Reuters - Published

Also reported by •Reuters India


NHS coronavirus app to be trialled on Isle of Wight this week and rolled out nationally 'by end of May

A new NHS app to help trace those who have come into contact with coronavirus will be rolled out later this month, the government has said.




Independent - Published





Coronavirus: Isle of Wight care workers live in tents

The Victoria House Care Home on the Isle of Wight now has a policy of "no one in and no one out".




BBC News - Published





Isle of Wight cliff collapse: Eight rescued from beach by lifeboat

Two groups of walkers were taking their daily exercise when the collapse happened.




BBC News - Published





Woman, 19, charged over Isle of Wight car and bus crash death

The crash between a double-decker bus and two cars happened a year ago.




BBC News - Published





Coronavirus: Isle of Wight and Download Festivals axed

Organisers of both events are looking to give refunds or let people keep tickets for next year.




BBC News - Published





Storm reveals 130 million-year-old dinosaur footprint on Isle of Wight

'All this weather is revealing traces of vanished worlds along our coastline,' says expert




Independent - Published





Isle of Wight musician fights tinnitus with soundscapes

Rupert Brown records soundscapes that he's found help manage his tinnitus.




BBC News - Published





Sea eagle settles with kites in Oxfordshire

One of six white-tailed eagles released on the Isle of Wight has been seen roosting with red kites.




BBC News - Published





Isle of Wight couple aim to reduce impact of tourism with a tuk-tuk

The young entrepreneurs dream of creating jobs and helping the environment by running a fleet of tuk-tuks.




BBC News - Published





Isle of Wight rescued tiger, Simi, dies of circus injuries

Simi the tiger spent two years in Belgium after being seized in Germany on welfare grounds.




BBC News - Published





Isle of Wight murder: Jonathan Stasiuk jailed for Gerry White killing

Jonathan Stasiuk slashed Gerry White with the weapon before strangling him over a "festering dispute".




BBC News - Published





Isle of Wight chainsaw murder: Jonathan Stasiuk pleads guilty

Jonathan Stasiuk used a chainsaw to attack Gerry White after the pair rowed about a community farm.




BBC News - Published





Isle of Wight woman Hazel Kimber died 'moulded' to chair

Her son is accused of failing to get medical help for the "severely malnourished" 83-year-old.




BBC News - Published





Isle of Wight waves almost drag man and child into sea

The man was knocked off his feet while carrying a child during stormy weather on the Isle of Wight.




BBC News - Published





Isle of Wight couple turn pink flamingos into rucksacks

Georgia and Steve's "inflatables amnesty" has seen more than 100 tonnes of plastic saved from landfill.




BBC News - Published





Dog survives 100ft fall off Isle of Wight cliff

A lifeboat crew found four-year-old terrier cross Archie uninjured and perched on a ledge.




BBC News - Published





Jetpack: British inventor flies letter to Isle of Wight

Richard Browning revives a 1934 dream by delivering a letter to the Isle of Wight in a jet suit.




BBC News - Published





Isle of Wight monastery offers spiritual internships

The Isle of Wight monastery offering internships to help young believers establish a 'lasting spiritual foundation'.




BBC News - Published




Prince George is surprise guest at Will & Kate's regatta, dons proper sailing cap

Prince George was a star attraction at Will and Kate's inaugural charity regatta off the Isle of Wight, decked out in proper sailing gear.




USATODAY.com - Published





Compton Bay kite surfer dies in cliff crash

The man in his 50s was dragged into rocks at Compton Bay on the Isle of Wight.




BBC News - Published





RSPCA seize 65 dogs from van and house on Isle of Wight

The animals welfare charity says it is grateful to those who report suspected animal suffering to them.




BBC News - Published





Dog freaks out when she sees owner's facial mask

A bulldog from Newport, Isle of Wight in England couldn't recognize her owner after she put on a facial mask.




USATODAY.com - Published





Boris Johnson 'kept in the dark by PM over secret intelligence'

Boris Johnson was kept in the dark over some sensitive secret intelligence by Downing Street when he became foreign secretary, according to reports. The BBC and The Sun newspaper, citing sources, claim..




WorldNews - Published





Rosie Johnson: Body found in search for woman missing on Isle of Wight after vanishing from holiday camp

A body has been found during an investigation into the disappearance of 22-year-old Rosie Johnson on the Isle of Wight, Hampshire Police have said.




Independent - Published





Missing Rosie Johnson: Isle of Wight boathouses searched

Rosie Johnson has been missing since Sunday when she was last seen at work on the Isle of Wight.




BBC News - Published




Rosie Johnson: Mystery as woman vanishes from adventure centre on Isle of Wight

Zoology graduate disappeared without phone or money more than two days ago




Independent - Published





Rosie Johnson: Search for missing 22-year-old on Isle of Wight

Rosie Johnson, 22, was last seen at a PGL activity centre on the Isle of Wight on Sunday.




BBC News - Published