Americas
Landmass comprising North America, Central America and South America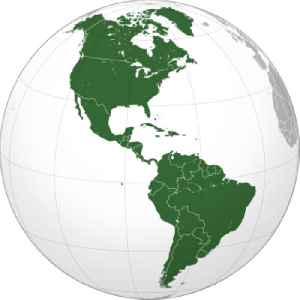 The Americas comprise the totality of the continents of North and South America. Together, they make up most of the land in Earth's western hemisphere and comprise the New World.


Fiat Chrysler said to be near forging tie-up with Renault
Fiat Chrysler Automobiles NV is set to announce a tie-up with Renault SA as soon as Monday, opening a path for the Italian-American automaker whose North American headquarter is in Auburn Hills to..
WorldNews - Published
Darien Gap: Desperate Journey to America
A dangerous 60-mile stretch of jungle separates Colombia and Panama. It's known as the Darien Gap, and thousands cross it every year, hoping to reach America.
CBS News - Published
Mexico's new jaguar cub attempts to roar for the cameras
A zoo in Mexico has welcomed the birth of a new jaguar as part of its breeding programme for the threatened species. Rough cut (no reporter narration).
Credit: Reuters Studio Duration: 00:44Published
Koons' "Rabbit" and Monet's "Meules" up for bid
Sculptor Jeff Koons' iconic "Rabbit" could snare $70 million when it goes up for bid at Christie's Wednesday, while a Monet canvas in his grainstacks series could fetch $55 million at Sotheby's on..
Credit: Reuters Studio Duration: 01:26Published
U.S. to deploy hospital ship to Venezuela region
U.S. Vice President Mike Pence told the Conference on the Americas on Tuesday that the U.S. would deploy a naval hospital ship to waters near Venezuela to assist those afflicted by the humanitarian..
Credit: Reuters Studio Duration: 01:54Published
Trump Aides Back Unfolding Venezuela Coup
On Tuesday President Trump's top aides publicly backed an attempted coup in Venezuela, where opposition leaders have teamed up with a band of rebellious soldiers in an effort to oust strongman leader..
Credit: Wochit News Duration: 00:52Published
Oldest Human Footprint In The Americas Made Over 15,000 Years Ago
According to Geek.com, an old human footprint found in the Americas dates back 15,600 years. The fossilized footprint was found in southern Chile back in 2010. A university student at the Pilauco Bajo..
Credit: Wochit News Duration: 00:37Published
Central American migrants continue to face crackdown in Mexico
A signal of a shift in policy away from providing humanitarian support for Central American refugees and towards a program of containment which is more in line with the demands of the US president.
Credit: Al Jazeera STUDIO Duration: 02:42Published
China Has Elevated Its Missile Capabilities Posing Unprecedented Challenge To The U.S.
According to a report by Reuters, Chinese President Xi Jinping elevated his country's missile forces to a level where they pose an unprecedented challenge to the aircraft carriers and bases that form..
Credit: Wochit News Duration: 00:45Published
Emigration, full circle: Returning to the old country
Generations after their ancestors emigrated from Italy to the New World, Americans are emigrating back to the Old World and, thanks to their Italian bloodlines, claiming citizenship
CBS News - Published
Search this site and the web:
You Might Like