Green Party of the United States
Political party in the United States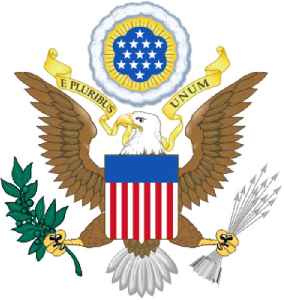 The Green Party of the United States (GPUS) is a federation of Green state political parties in the United States. The party promotes green politics, specifically environmentalism; nonviolence; social justice; participatory, grassroots democracy; gender equality; LGBTQ rights; anti-war; anti-racism and ecosocialism. On the political spectrum, the party is generally seen as left-wing.


NZ's next parliament will be most diverse ever

[NFA] New Zealand's next parliament is set to be the most inclusive ever, with several people of color, members from the rainbow communities and a high number of women. Emer McCarthy reports.
Credit: Reuters - Politics Duration: 01:26
Published
You Might Like



'Poor cousin': New Zealand opposition leader insults Tasmania in off-script remarks

Judith Collins says she would not want New Zealand to emulate Tasmania economically and says it was 'much nicer before the Green party took over' New Zealand opposition leader Judith Collins has..




WorldNews - Published





The Green Party's biggest fan? In some states, it's the G.O.P.

Republicans have tried boosting Green Party candidates in previous election cycles to siphon votes from Democrats. It's at it again this year — but it hasn't always worked.




NYTimes.com - Published




9/17/20: Red and Blue

When will the COVID19 vaccine be available?; Pa. Supreme Court rules on Green Party candidate




CBS News - Published





Green Party candidates won't be on ballot in Pennsylvania

The ruling comes days the state Supreme Court in another battleground state, Wisconsin, also ruled the Green Party won't be on the ballot there.




CBS News - Published





Dispute over candidates delays Pennsylvania's mail-in ballots

Ballots in Pennsylvania should have been mailed out on Monday, but legal issues have delayed the process. Democrats in the state are fighting to get the Green Party nominees off the ballot. CBS News..




CBS News - Published





2020 Daily Trail Markers: Wisconsin Supreme Court rules Green Party won't be on the ballot in the state

Meanwhile, Pennsylvania can't certify its November ballot until the state Supreme Court decides whether the Green Party will be on it.




CBS News - Published





Micheal Martin to take over as Irish prime minister in grand coalition

Micheal Martin is set to take over as Ireland's new prime minister Saturday at the helm of the nation's first grand coalition, replacing Leo Varadkar in what will be a rotating premiership. The..




WorldNews - Published





Mícheál Martin to become taoiseach after parties back deal

Fianna Fáil, Fine Gael and Green Party members voted to go into government together on Friday.




BBC News - Published





Climate change: Ireland on the verge of its 'greenest government ever'

Green Party members could vote in favour of a new coalition.




BBC News - Published





Factbox: Irish coalition sets out programme for government

A coalition of Ireland's two dominant centre-right parties and the Green Party agreed a draft programme for government on Monday, pending approval by their respective members in coming weeks.




Reuters - Published





Irish parties ink deal to bring Greens into new coalition government

Ireland's two dominant centre-right parties have agreed to form a coalition for the first time in a deal that will also put the Green Party at the centre of policymaking and end a political stalemate..




Reuters - Published





Irish parties to sign off on coalition deal on Monday: Fianna Fail

Irish political parties Fianna Fail, Fine Gael and the Green Party will sign a deal on the formation of a new coalition government on Monday, Fianna Fail leader Micheal Martin said on Sunday.




Reuters - Published





Greens enter Irish coalition talks with climate on agenda

Ireland's Green Party agreed to enter talks about forming a government with the centre-right Fianna Fail and Fine Gael parties on Sunday, but said it would withdraw if it could not agree a policy..




Reuters - Published





Ireland's Green Party enters talks on formation of government

Ireland's Green Party agreed on Sunday to enter formal talks with centre-right parties Fianna Fail and Fine Gael on forming a government, but said it would withdraw if unable to agree a policy..




Reuters - Published





Met Police officers 'shredded documents linked to undercover policing inquiry'

Watchdog also investigated claims Scotland Yard witheld information on Green Party politician Baroness Jenny Jones




Independent - Published





Green Party's national government call complicates Irish talks

Ireland's Green Party called on all parties to suspend talks on forming a new administration on Wednesday and instead build a temporary national government across parliament, complicating negotiations..




Reuters - Published





New Zealand's Greens pit teenaged activist against Ardern for election

A week shy of his 18th birthday, climate activist Luke Wijohn is planning to take down New Zealand's Prime Minister Jacinda Ardern in a general election later this year, having been selected by the..




Reuters - Published





Green MP Caroline Lucas investigated over Commons tour fundraiser

The offer of a Commons tour in exchange for a donation was part of a Green Party crowdfunding drive.




BBC News - Published





Likely Irish kingmaker Green Party eyes aviation tax, megaprojects

Ireland's Green Party, likely to be a kingmaker after Saturday's election, would re-introduce an aviation tax opposed by Ryanair and push two megaprojects to cut carbon emissions if it enters..




Reuters - Published





Austria's Greens vote to enter government with People's party

Members of Austria's Green party voted on Saturday to join a new government led by the conservative former chancellor Sebastian Kurz, clearing the final hurdle for an untested national left-right..




WorldNews - Published





Austria's Kurz strikes coalition deal with Greens in swing to left

(CNN)Austria's Conservative People's Party leader Sebastian Kurz will resume the chancellorship as one of the world's youngest leaders in a new coalition government with the Green Party. The young..




WorldNews - Published





Austria's Sebastian Kurz agrees on coalition government with Greens

The leader of Austria's centre-right People's Party, Sebastian Kurz, has announced that he will go into coalition with the country's Green Party. Mr Kurz, 33, agreed the to the new power-sharing..




WorldNews - Published





Write off recent student fees debt, says Green Party

Education is a public good, say environmentalists




Independent - Published





Hanover makes history in mayor's race by electing son of Turkish immigrants

In a historic vote, Hanover has elected Belit Onay, the son of Turkish immigrants, to lead the city. The politician is also among the first Green party mayors in the country. ......




WorldNews - Published





"OK, boomer": 25-year-old lawmaker shuts down heckler during climate speech

Chlöe Swabrick, who belongs to the Green Party, silenced a fellow member of the U.K. Parliament by saying, "OK, boomer" – a phrase adopted by millennials to call out people from the baby boomer..




CBS News - Published





General election: Green Party vow to invest £100bn a year to tackle climate crisis

The Green Party has vowed to invest £100bn a year in ending the UK's use of fossil fuels and tackling the climate emergency, as the party launches its general election campaign. Attempting to frame..




WorldNews - Published

Also reported by •Independent


Leader of Canada's small Green Party quits after winning just three seats in election

Elizabeth May, the head of Canada's minority Greens, said on Monday she was quitting to spend more time with her family just two weeks after an election in which the party won fewer seats than it had..




Reuters - Published





Factbox: Key seats to watch in Canada's federal election

As Canadians head to polls on Monday, Prime Minister Justin Trudeau's Liberals are neck-and-neck with Andrew Scheer's Conservative Party in national opinion polls. The New Democratic Party (NDP) led by..




Reuters - Published




Greens make big gains in latest Swiss parliamentary elections

GENEVA, Oct. 20 (Xinhua) -- Green parties made historic gains in Swiss parliamentary elections on Sunday with the Greens more than doubling their representation in the bigger chamber of the two-chamber..




WorldNews - Published





'Hillary's Gone Crazy': Trump Defends Tulsi Gabbard after Clinton Says Democratic Candidate is Being 'Groomed' by Russia

President Donald Trump has suggested his political rival Hillary Clinton has "gone crazy" after she suggested Russia was "grooming" presidential candidate Rep. Tulsi Gabbard. Trump reacted on Twitter..




WorldNews - Published





New environment bill removes power to fine government for missing targets

'Brexit will mean relinquishing protections ingrained in EU membership and this bogus watchdog will have little in the way of bark, let alone any bite to deal with it.' says Green Party




Independent - Published





Caroline Lucas proposes all-female 'emergency cabinet' to stop no-deal Brexit and push for second referendum

'I believe women have shown they can bring a different perspective to crises,' Green Party MP says




Independent - Published





Finland shows us what happens when a country embraces a proportional voting system

Finland's pledge to make the country carbon neutral by 2035 is the most ambitious climate plan in the whole EU. This has happened because Greens are in government, winning 20 seats under a..




WorldNews - Published