Rocky Mountains
Mountain range in North America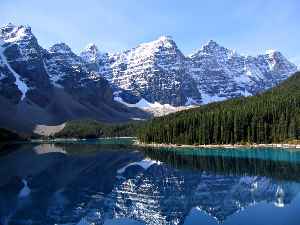 The Rocky Mountains, also known as the Rockies, are a major mountain range in western North America. The Rocky Mountains stretch more than 4,800 kilometers (3,000 mi) from the northernmost part of British Columbia, in western Canada, to New Mexico in the Southwestern United States. Located within the North American Cordillera, the Rockies are somewhat distinct from the Pacific Coast Ranges, Cascade Range, and the Sierra Nevada, which all lie farther to the west.


Gas prices above $4 in California for first time in five years
Fuel prices are up nationwide, too, as unexpected repairs put refineries out of action in West Coast and Rocky Mountains
CBS News - Published
Canada avalanche: Three professional climbers believed killed in Rockies
The three, from the US and Europe, are believed to have died scaling a mountain in the Rockies.
BBC News - Published
U.S.Plains And Midwest States Bracing For More Winter Storm Activity
Reuters reports that for the second time this month, a "bomb cyclone" blizzard, has hit the Rocky Mountains and is headed towards the U.S. Plains and Midwest region. The unseasonable winter storm..
Credit: Wochit News Duration: 00:43Published
Blizzard Bears Down As Plains Continue To Reel From Flooding
According to a report by Reuters, on Wednesday, a powerful April blizzard threatened the north-central part of the United States, as it pushed east across the Rockies and into the Plains states,..
Credit: Wochit News Duration: 00:46Published
At least three dead in U.S. Midwest flooding
Floodwaters in the Midwestern United States after last week's "bomb cyclone" have left at least three people dead with further evacuations possible. Gavino Garay reports.
Credit: Reuters Studio Duration: 01:19Published
Historic Blizzard Still Packing Forceful Winds As It Barrels East
Reuters reports that the unseasonable blizzard that hit the U.S. Rocky Mountain and Plains states this week is now moving eastward. Weather officials say the storm has weakened but is still packing..
Credit: Wochit News Duration: 00:38Published
'Bomb Cyclone' Brings Chaos To U.S. Plains States
A late-winter blizzard pounded U.S. Rocky Mountain and Plains states on Wednesday, unleashing a "bomb cyclone" of high winds and drifting snow that stranded motorists, canceled airline flights and..
Credit: Wochit News Duration: 00:31Published
Blizzard Pounds Central U.S. Plains, Grounding Flights & Cutting Power
According to a report by Reuters, on Wednesday, a late-winter blizzard hit the US central plains states with high winds and an expected 2 feet of snow. The storm has disrupted air travel, caused power..
Credit: Wochit News Duration: 00:52Published
Three world-class climbers presumed dead in Canadian avalanche
Three renowned professional alpinists are missing and presumed dead after an avalanche in Canada's Rocky Mountains, Parks Canada said on Thursday.
Reuters - Published
Blizzard clobbers Plains and Midwest after blanketing the U.S. Rockies
A powerful blizzard slammed the U.S. Plains and Midwest on Thursday with heavy snow and fierce winds that caused power outages and closed highways while raising fears of more flooding in the Midwest..
Reuters - Published
Search this site and the web:
You Might Like