Rocky Mountains
Major mountain range in western North America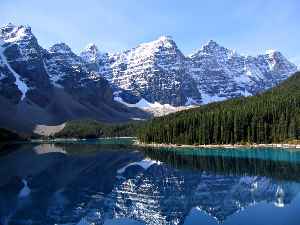 The Rocky Mountains, also known as the Rockies, are a major mountain range located in western North America. The Rocky Mountains stretch 3,000 km (1,900 mi) in straight-line distance from the northernmost part of British Columbia, in western Canada, to New Mexico in the Southwestern United States. The northern terminus is near the Liard River, while the southernmost point is near Albuquerque, adjacent the Sandia–Manzano Mountains. Located within the North American Cordillera, the Rockies are distinct from the Pacific Coast Ranges, Cascade Range, and the Sierra Nevada, which all lie farther to the west.


Snow storm snarls traffic in Rocky Mountain area
A major storm that dumped snow throughout the Rockies region overnight prompted a rare decision to close Salt Lake City's public schools on Monday, caused extensive flight delays and traffic accidents...
USATODAY.com - Published
Soldierstone, a hidden memorial in Colorado honoring forgotten war veterans
In a remote and unmarked field high in the Rocky Mountains, a former Green Beret erected a pillar of granite in tribute to fallen compatriots.
CBS News - Published
Nature: Colorado Rockies
"Sunday Morning" takes you this morning to a mid-winter snowscape in the Rocky Mountains near Leadville, Colorado. Videographer; Scot Miller.
CBS News - Published
Record snow, cold, slams northern U.S. Rockies with winter-like weather
Midwinter-like weather clobbered the northern Rockies Sunday and into Monday, making early Autumn feel like deep winter, while as much as 4 feet (121 cm) of snow fell in places and hard-hit Montana..
Reuters - Published
Winter in September? Major snowstorm slams northern U.S. Rockies
It looked like midwinter in the northern Rocky Mountains on Sunday as a major storm dumped record snowfall of over 3 feet (91 cm) in places and hard-hit Montana declared a state of emergency to clear..
Reuters - Published
First flakes fall as Colorado braces for record snowfall
It may be September but a major winter storm is expected to hit the northern Rockies with heavy snow, high winds and even blizzard conditions. The storm is expected to be a historic one, potentially..
CBS News - Published
500-Million-Year-Old Minibeast Is Oldest Relative Of Scorpions And Spiders Ever Found
The Aragogs and Shelobs of this world have been scuttling about for more than 500 million years – well, at least their ancestors have. Scientists have uncovered a new ancient species called..
WorldNews - Published
It's raining plastic: microscopic fibers fall from the sky in Rocky Mountains
Discovery raises new questions about the amount of plastic waste permeating the air, water, and soil virtually everywhere on Earth Plastic was the furthest thing from Gregory Weatherbee's mind when..
WorldNews - Published
Mexican drug lord 'El Chapo' begins life term in Colorado 'Supermax' prison
More By Alex Dobuzinskis (Reuters) - Joaquin Guzman, the Mexican drug lord known as "El Chapo," entered a Colorado prison known as "the Alcatraz of the Rockies" on Friday to begin a life sentence after..
WorldNews - Published
Treasure is said to be hidden in the Rockies. More people are getting hurt looking for it
The Forrest Fenn treasure is said to be hidden in the Rocky Mountains. A recent injury caused the Gallatin County Sheriff's Office to issue a warning.
USATODAY.com - Published