George Stephanopoulos
American government official, journalist, writer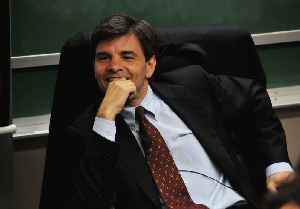 George Robert Stephanopoulos is an American television host, political commentator, and former Democratic adviser. Stephanopoulos currently is chief anchor and political correspondent on ABC News, coanchor with Robin Roberts on Good Morning America, and host of This Week, ABC's Sunday morning current events news program. Stephanopoulos also serves as a regular substitute anchor on ABC World News Tonight.


Comics say Trump should be interrupted by coughing more often
What was Trump's White House interview with Stephanopoulos like? The comics give a crash course in Best of Late Night.
USATODAY.com - Published
Trump's promise to release a 'phenomenal' healthcare plan has Republicans nervous
Donald Trump is getting ready for another healthcare push, and his fellow Republicans are unthrilled. Trump told ABC's George Stephanopoulos that "we already have the concept of the plan" for..
WorldNews - Published
What Clinton Did Was Politics. What Trump's Doing Is Treason.
The most appalling aspect of the recent George Stephanopoulos episode was not the interview itself, but...
WorldNews - Published
Trump Hypes Stephanopoulos Interview
President Trump "hyped his forthcoming full interview with ABC News' George Stephanopoulos, excerpts of which shook allies and opponents alike this week...
WorldNews - Published
2020 hopefuls' reaction to Trump on getting dirt on opponents
In an interview that aired Wednesday, Mr. Trump tod ABC News' George Stephanopoulos "there's nothing wrong with listening" if a foreign actor offered him information on a candidate
CBS News - Published
Search this site and the web:
You Might Like