Dr. Dre
American rapper, record producer, entrepreneur, record executive, actor, and audio engineer from California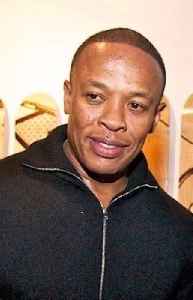 Andre Romelle Young, known professionally as Dr. Dre, is an American rapper, record producer, entrepreneur, record executive, actor, and audio engineer. He is the founder and CEO of Aftermath Entertainment and Beats Electronics, and was previously co-owner of Death Row Records. Dr. Dre began his career as a member of the World Class Wreckin' Cru in 1985, but found fame with the influential gangsta rap group N.W.A, which popularized explicit lyrics in rap to detail the violence of street life. He is credited as a key figure in the crafting and popularization of West Coast G-funk, a subgenre of hip hop characterized by a synthesizer foundation and slow, heavy beats. As of 2018, he is the second-richest figure in hip hop, with an estimated net worth of US$800 million.


You Might Like
Kanye West announces 'Jesus Is King Part II' with Dr. Dre, teases opera at Hollywood Bowl
Kanye West took to Twitter Monday to announce a "Jesus Is King" sequel with Dr. Dre. The day before, the rapper teased an upcoming opera in LA.
USATODAY.com - Published
Kanye West Announces 'Jesus Is King' Sequel With Dr. Dre
Weeks after releasing Jesus Is King, Kanye West is already back in the studio working on new music. Yeezy took to Twitter on Monday (Nov. 18) to announce a Jesus Is King sequel in the works with none..
WorldNews - Published
Dr. Dre, Iovine unveil high-tech new building at USC
Dr. Dre and Jimmy Iovine launch the new University of Southern California Academy for Arts and Technology, a high-tech building that they donated a combined $70 million for in 2013. (Oct. 3)  
USATODAY.com - Published
ShowBiz Minute: Miller, R. Kelly, Dr. Dre
Three men charged with providing drugs that killed rapper Mac Miller; Judge denies bail for R. Kelly in NYC sex-abuse case; Dr. Dre, Jimmy Iovine unveil high-tech new building at USC. (Oct. 3)
USATODAY.com - Published
ShowBiz Minute: Markle, Dr Dre, Perry
UK tabloid to fight Meghan Markle's lawsuit on letter to dad; Dr. Dre, Iovine to unveil high-tech new building at USC; Tyler Perry dedicates Walk of Fame star to underdogs. (Oct. 2)  
USATODAY.com - Published
Search this site and the web: