Fear
Basic emotion induced by a perceived threat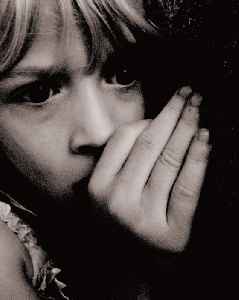 Fear is an emotion induced by perceived danger or threat, which causes physiological changes and ultimately behavioral changes, such as fleeing, hiding, or freezing from perceived traumatic events. Fear in human beings may occur in response to a certain stimulus occurring in the present, or in anticipation or expectation of a future threat perceived as a risk to oneself. The fear response arises from the perception of danger leading to confrontation with or escape from/avoiding the threat, which in extreme cases of fear can be a freeze response or paralysis.


You Might Like
Fear stops Rohingya getting tested as virus hits refugee camps
Rohingya refugees in Bangladesh with symptoms of the novel coronavirus are not coming forward to get tested because they fear being separated from their families and held in isolation, community..
Reuters - Published
Also reported by •Reuters India
'Fear' stopping people from seeking urgent treatment for non-coronavirus-related illnesses, doctors say
People are 'so frightened that they're just not ringing their GP or going to the hospital'
Independent - Published
Get over 'fear' of chlorinated chicken, US tells UK, as RSPCA warns eggs from battery hens may return to supermarkets
'This is not a food safety issue, it's an animal welfare issue', charity says
Independent - Published
Grief and Fear in Sacramento Over a Death That Set the World on Edge
The Sacramento region is home to thousands of Muslim immigrants. The death of one of them in Iraq was the spark that brought the United States and Iran to the edge of war.
NYTimes.com - Published
Fear grips Kashmiri village where Indian migrant workers killed
Locals in the Kashmiri village where five Indian migrant laborers were killed by gunmen last week say they are living in fear of militant groups as well as the subsequent crackdown by security forces.
Reuters - Published
Lindsey Vonn in 2017: Fear is not part of the equation
Now that the winningest female ski racer in the world has retired, 60 Minutes looks back on her conversation with Sharyn Alfonsi
CBS News - Published
'I was in fear' – Chinese state reporter accused of slapping student gives evidence in Birmingham
The 49-year-old said she has been left feeling humiliated
Independent - Published
'It Feels Like Being Hunted': Latinos Across U.S. in Fear After El Paso Massacre
The shooting attack in El Paso has left many Latinos deeply shaken, raising questions about their place in American society.
NYTimes.com - Published
Strippers left feeling 'violated' and in 'fear' after private investigators secretly film nude dances for undercover sting
'We have a right to our body, despite what we do for a job,' says dancer
Independent - Published