Alibaba Group
Hangzhou-based group of Internet-based e-commerce businesses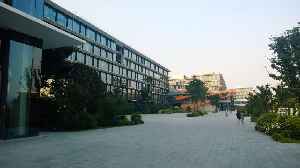 Alibaba Group Holding Limited, also known as Alibaba Group and as Alibaba.com, is a Chinese multinational technology company specializing in e-commerce, retail, Internet, and technology. Founded on 4 April 1999, in Hangzhou, Zhejiang, the company provides consumer-to-consumer (C2C), business-to-consumer (B2C), and business-to-business (B2B) sales services via web portals, as well as electronic payment services, shopping search engines and cloud computing services. It owns and operates a diverse portfolio of companies around the world in numerous business sectors.


Jack Ma's Ant Group Putting Together Largest IPO In History

Business Insider reports that Jack Ma's Ant Group is looking to raise its funding target to $35 billion through its initial-public-offering. Ant is Alibaba's fintech arm and China's dominant..
Credit: Wochit News Duration: 00:24
Published
Alibaba's Ant Group files for record-breaking IPO

Alibaba's Ant Group - operator of the Alipay online payments system - has filed for an IPO that could be the biggest ever. Julian Satterthwaite reports.
Credit: Reuters Studio Duration: 01:21
Published
You Might Like



Alibaba Boosts its Holding in Sun Art Group in a Deal Worth $3.6 Billion

Alibaba Group Holding has increased its stake in Sun Art Retail Group, a Hypermarket chain operator. As by Reuters, the move by Alibaba Group Holding Ltd (HKG: 9988) to increase its investment in the..




WorldNews - Published





Alibaba increases stranglehold on Chinese shoppers

The tech giant is increasing its offline footprint by acquiring leading supermarket chain Sun Art.




BBC News - Published





Alibaba reports 34% surge in quarterly revenue

HANGZHOU - China's e-commerce giant Alibaba Group reported year-on-year revenue growth of 34 percent to 153.8 billion yuan ($21.76 billion) for the quarter that ended on June 30, 2020. The company's...




WorldNews - Published





China's Alibaba offers olive branch to Trump

The comments from the online retail giant's boss come as the firm saw sales jump in the wake of the pandemic.




BBC News - Published





After TikTok, Trump administration may ban Alibaba, other Chinese firms in US

US President Donald Trump has indicated that he was looking to ban other Chinese-owned companies, including e-commerce giant Alibaba in the United States, days after signing an executive order..




WorldNews - Published





After TikTok and WeChat, Alibaba could be the next target in Trump's tech war

Hong Kong (CNN Business)The United States has taken aim at some of China's biggest tech champions, from Huawei and ByteDance's TikTok to Tencent's WeChat. Alibaba, one of the world's largest retail and..




WorldNews - Published





Hong Kong launches share index of technology giants

Investors will now have greater access to Chinese tech firms including Alibaba, China's answer to Amazon.




BBC News - Published





Alibaba's Jack Ma ordered to appear before Indian court after ex-employee sues over alleged censorship & fake news

Jack Ma, CEO of Alibaba, has been pulled into a lawsuit filed by a former Indian employee who claims the company's mobile apps censor content. The case comes after India imposed a sweeping ban on..




WorldNews - Published





Gurgaon court summons Chinese billionaire Jack Ma, founder of Alibaba Group, over 'wrongful firing' of ex-employee

The case comes weeks after India cited security concerns in banning Alibaba`s UC News, UC Browser, and 57 other Chinese apps after a clash between the two countries` forces on their border.




DNA - Published





Gurugram court summons Alibaba, founder Jack Ma on former employee's complaint

The court documents showed that a summons has been issued to Alibaba, Jack Ma, and about a dozen individuals or company units, asking them to appear in court or through a lawyer on July 29.




DNA - Published





Ecommerce Website Design Trends To Win The Competition

E-commerce is an emerging market with a ton of competitors. The greater part of the enormous names are operating worldwide. Amazon and Alibaba are e-commerce stores offering a wide range of items to..




WorldNews - Published





Huawei, Alibaba among 7 companies with links to Chinese army; could soon face action in India

Not all of the seven Chinese companies are in the mobile or tech sectors. They have got a wide net of investments in various Indian industries.




DNA - Published





Alibaba co-founder Jack Ma sells $8.2bn worth of shares

Alibaba co-founder Jack Ma has cut his stake in the company over the past year to 4.8 per cent from 6.2 per cent, cashing out around $8.2 billion at its current share price, the firm's annual filing..




WorldNews - Published





China's Alibaba to open third cloud center in Indonesia next year

Chinese tech behemoth Alibaba plans to open its third cloud data center in Indonesia by next year in expanding its presence in the Indonesian market amid rising competition. Alibaba Cloud, a subsidiary..




WorldNews - Published





Alibaba's Lazada appoints Chun Li as new CEO

Lazada Group Chief Executive Officer and co-founder Pierre Poignant will be replaced by Chun Li, a former Alibaba executive, who is currently Lazada co-president and head of its Indonesia operations,..




WorldNews - Published





SoftBank's Son leaves Alibaba board following Ma's departure

Masayoshi Son, the chief executive of Japanese technology company SoftBank Group Corp., said Thursday that he is stepping down from the board of Chinese e-commerce giant Alibaba. ......




WorldNews - Published





Alibaba extends its reach in China as coronavirus outbreak opens doors

Alibaba Group Holding Ltd is emerging as one of China's biggest corporate winners of the coronavirus crisis, gaining the opportunity to expand its businesses and solidify its status as a critical part..




Reuters - Published





Alibaba's sales surge as people shop online during lockdown

Alibaba Group Holding Ltd on Friday reported forecast-beating fourth-quarter revenues and profits, as more people shopped online for essentials because of the coronavirus lockdowns.




Reuters - Published





SoftBank to raise over $11 billion for buybacks using Alibaba shares

Softbank Group will raise 1.25 trillion yen ($11.7 billion) using Alibaba stock to fund buybacks of its own shares, Chief Executive Masayoshi Son said on Monday.




Reuters - Published





Alibaba's Jack Ma resigns from SoftBank board

SoftBank Group Corp said on Monday that Alibaba co-founder Jack Ma will resign from its board, in the latest departure by a high-profile ally of CEO Masayoshi Son.




Reuters - Published





SoftBank proposes three new board members as Alibaba's Jack Ma resigns

SoftBank Group Corp said on Monday that Alibaba co-founder Jack Ma will resign from its board, in the latest departure by a high-profile ally of CEO Masayoshi Son.




Reuters - Published





Alibaba acquires 50 per cent stake in Singapore's AXA Tower, home to its Lazada e-commerce unit

Chinese technology giant Alibaba Group Holding has acquired a 50 per cent stake...




WorldNews - Published





Alibaba to invest $28 billion in cloud services after coronavirus boosted demand

Alibaba Group Holding Ltd said it will invest 200 billion yuan ($28 billion) in its cloud infrastructure over three years - a plan that follows a boom in demand for business software as the coronavirus..




Reuters - Published





Billionaire Brooklyn Nets owner Joe Tsai donates ventilators and masks to New York

New York (CNN Business)Joe Tsai, the billionaire co-founder of Chinese ecommerce giant Alibaba, and his wife Clara Wu Tsai, have donated 2.6 million masks, 170,000 goggles and 2000 ventilators to New..




WorldNews - Published





Coronavirus supplies donated by Alibaba's Ma arrive in Africa

A first planeload of protective and medical equipment donated to Africa by Chinese billionaire and Alibaba co-founder Jack Ma to help it fight the coronavirus arrived in the Ethiopian capital Addis..




Reuters - Published





Chinese billionaire Jack Ma tweeted for the first time ever to say he's started shipping 1 million masks and 500,000 coronavirus testing kits to the US

Alibaba billionaire Jack Ma. Ruben Sprich/Reuters Alibaba billionaire Jack Ma announced on Friday his charitable foundation would donate 500 million coronavirus testing kits and 1 million face masks to..




WorldNews - Published





More African countries confirm first coronavirus cases as Jack Ma pledges aid

Chinese billionaire and Alibaba co-founder Jack Ma pledged to donate over 1 million coronavirus tests to Africa on Monday, as more African nations confirmed their first cases or shut borders amid fears..




Reuters - Published





Shanghai Fashion Week to go ahead online as virus disrupts events

Shanghai Fashion Week, initially postponed due to the coronavirus outbreak, will go ahead as scheduled online in a tie-up with Alibaba Group's Tmall marketplace, its organizers said.




Reuters - Published




China seeks help of national tech giants to track coronavirus with QR codes

China's government is enlisting the help of Alibaba Group Holding Ltd and Tencent Holdings Ltd to expand color-based systems for tracking individuals affected with the coronavirus nationwide.




Reuters - Published




Alibaba warns of drop in e-commerce revenues due to coronavirus

Alibaba Group Holding Ltd warned of a drop in revenues at its key e-commerce businesses this quarter as the coronavirus sweeping China hits supply chains and deliveries.




Reuters - Published





Alibaba beats estimates on record Singles' Day sales

China's Alibaba Group Holding Ltd beat analysts' estimates for quarterly results on Thursday, driven by record sales during its annual Singles' Day shopping blitz and demand for its cloud computing..




Reuters - Published




Alibaba offers $2.86 billion in loans to firms hit by coronavirus outbreak

SHANGHAI (Reuters) - Alibaba Group Holdings said on Monday its affiliate Ant Financial's MYBank unit would offer 20 billion yuan ($2.86 billion) in loans to companies in China in light of the..




WorldNews - Published

Also reported by •Reuters


In bid to curb virus, China firms tell staff to work from home even after holidays end

Chinese corporate giants including Alibaba Group Holding and Tencent Holdings Ltd said they have asked staff to work from home for one week after an extended Lunar New Year break ends, seeking to limit..




Reuters - Published




Alibaba's Taobao takes down overpriced face masks on its marketplace

Alibaba's Taobao marketplace said on Sunday that it has removed sales of face masks from shops that show "unstable prices or false advertising", as prices for the products surged as Chinese consumers..




Reuters - Published




Virus outbreak prompts Chinese travel firms to offer free cancellations

Chinese travel booking platforms from Trip.com to Alibaba Group's Fliggy said on Tuesday they would offer free cancellations on bookings made for Wuhan amid mounting fears over a viral outbreak in the..




Reuters - Published




Alibaba undercuts Amazon in Europe to woo wary brands

After years of reconnaissance, China's retail king Alibaba is finally making its move on Europe. It is undercutting Amazon sellers' fees to attract vendors but has had mixed results, six sources with..




Reuters - Published





Global financial watchdogs take aim at Big Tech's data dominance

Google, Alibaba and other "Big Tech" companies could be forced to share data on financial services customers with banks and financial technology firms to prevent unfair competition.




Reuters - Published





SoftBank's Son sticks with gut-led investing in chat with Alibaba's Ma

Weeks after his billion-dollar bailout of WeWork, SoftBank Group Corp's founder and CEO Masayoshi Son reiterated his belief in an instinct-led investing style, in a discussion with Alibaba Group..




WorldNews - Published

Also reported by •Reuters


Saudi Aramco raises $25.6bn in world's biggest share sale

The oil giant's listing is the biggest ever, surpassing that of China's Alibaba in 2014.




BBC News - Published





Timeline: Saudi Aramco's winding road to an IPO

State-run oil giant Saudi Aramco has priced its initial public offering (IPO) at the top of its indicative range, making it the world's biggest flotation by raising more than Alibaba's $25 billion..




Reuters - Published





FACTBOX: Saudi Aramco: the oil colossus

State-run oil giant Saudi Aramco has priced its initial public offering (IPO) at the top of its indicative range, making it the world's biggest flotation by raising more than Alibaba's $25 billion..




Reuters - Published





Saudi Aramco says IPO priced at top to make it world's biggest IPO

State-owned oil giant Saudi Aramco has priced its initial public offering (IPO) at the top of its indicative range, the company said on Thursday, making it the world's biggest flotation, above..




Reuters - Published