Alibaba Group
Hangzhou-based group of Internet-based e-commerce businesses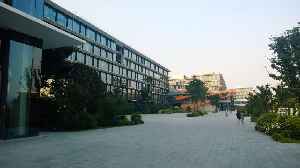 Alibaba Group Holding Limited is a Chinese multinational conglomerate holding company specializing in e-commerce, retail, Internet and technology. Founded 4 April 1999, the company provides consumer-to-consumer (C2C), business-to-consumer (B2C), and business-to-business (B2B) sales services via web portals, as well as electronic payment services, shopping search engines and cloud computing services. It owns and operates a diverse array of businesses around the world in numerous sectors, and is named as one of the world's most admired companies by Fortune.


Alibaba Earned Way More Than Expected Despite Fear Over China's Economy
The e-commerce giant Alibaba Group Holding earned far more than analysts expected in its latest quarter, allaying concern that China's economic slowdown and trade war with the U.S. would hurt its..
WorldNews - Published
Alibaba beats revenue expectations on cloud boost
Chinese e-commerce giant Alibaba Group Holding Ltd beat fourth-quarter revenue forecasts on Wednesday, thanks to growth in its core business and its diversification into cloud computing and other..
Reuters - Published
Luckin Coffee's piping hot IPO
The Chinese challenger to Starbucks, Luckin Coffee, saw its shares zoom up 47 percent at the open as it debuted on the Nasdaq. But Fred Katayama reports, the startup warns it may keep losing money in..
Credit: Reuters Studio Duration: 01:03Published
Jack Ma Told Alibaba Staff To Have Lots Of Sex At A Mass Wedding For His Employees
Alibaba owner, Jack Ma, attended a company mass wedding on Friday. The billionaire businessman telling employees they should be having lots of sex to mirror the exacting work weeks demanded by the..
Credit: Wochit News Duration: 01:02Published
Uber to debut on Friday with $82 Bln valuation
Uber priced its initial public offering on Thursday at the low end of its targeted range to value the company at $82.4 billion, hoping the conservative approach would let it avoid the market chaos..
Credit: Reuters Studio Duration: 01:42Published
Uber to start pitching IPO Friday -source
Ride-hailing company Uber will unveil terms for its initial public offering on Friday, telling investors it will seek to be valued at between $80 billion and $90 billion, according to people familiar..
Credit: Reuters Studio Duration: 01:12Published
Amazon says it's shutting its China online store
Amazon says it will shut its China online store by July 18, as the U.S. e-commerce giant focuses on the lucrative businesses of selling overseas goods and cloud services in the world's most populous..
Credit: Reuters Studio Duration: 01:45Published
Banking newbies set to shake-up Asia's finances
In Asia, it's the region's biggest tech giants that are challenging high street banks, to a degree not seen in Europe or the United States. Michelle Hennessy reports.
Credit: Reuters Studio Duration: 02:20Published
Alibaba Founder Defends Overtime Work Culture As 'Huge Blessing'
Alibaba Group founder and billionaire Jack Ma has defended the grueling overtime work culture at many of China's tech companies, calling it a "huge blessing" for young workers. In a speech to..
Credit: Wochit News Duration: 00:47Published
Alibaba revenue beats estimates on cloud boost; shares rise
China's Alibaba Group Holding Ltd beat analysts' estimates for fourth-quarter revenue on Wednesday, boosted by growth in its core e-commerce and cloud computing businesses.
Reuters - Published
Search this site and the web:
You Might Like