Linda Lavin
American actress and singer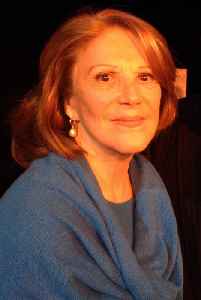 Linda Lavin is an American actress and singer. She is known for playing the title character in the sitcom Alice and for her stage performances, both on Broadway and Off-Broadway. After acting as a child, Lavin joined the Compass Players in the late 1950s. She began acting on Broadway in the 1960s, earning notice in It's a Bird...It's a Plane...It's Superman in 1966 and receiving her first Tony Award nomination in Last of the Red Hot Lovers in 1970. She moved to Hollywood in 1973 and began to work in television, making recurring appearances on the sitcom Barney Miller before getting the title role in hit comedy Alice, which ran from 1976 to 1985. She appeared in many telefilms and later in other TV work. She has also had roles in several feature films. In 1987, she returned to Broadway, starring in Broadway Bound, Gypsy (1990), The Sisters Rosensweig (1993), The Diary of Anne Frank (1997–1998) and The Tale of the Allergist's Wife (2000–2001), among others. In 2010, she appeared as Ruth Steiner in Collected Stories, garnering her fifth Tony nomination. She starred in NBC's short-lived sitcom, Sean Saves the World as Lorna and the CBS sitcom 9JKL.


You Might Like
"Sunday Morning" Full Episode 8/2
Hosted by Jane Pauley. In our cover story, David Pogue checks up on why nearly half of Americans are believed to be living without high-speed internet access. Plus: Mo Rocca sits down with actress and..
CBS News - Published
Linda Lavin: "I've worked more in these 2½ months than I have in 2½ years"
Since the pandemic began, the star of the classic sitcom "Alice" has performed online concerts, and released a new album – evidence that much of her success comes from always advocating for herself
CBS News - Published
Linda Lavin: "I'm still here"
Actress and singer Linda Lavin says that, since the pandemic began, she has been busier than ever – from releasing a new album to performing weekly online concerts. The star of the classic sitcom..
CBS News - Published
Linda Lavin on her character "Alice" as a model mom
In this web exclusive, actress Linda Lavin, who starred as a single mother working as a waitress in the TV sitcom "Alice" (1976-1985), talked with correspondent Mo Rocca about how her character was..
CBS News - Published
Philip McKeon, Actor on 'Alice,' Dies at 55
He played the son on the CBS sitcom, which starred Linda Lavin as an aspiring singer turned waitress, for more than half of its run.
NYTimes.com - Published
Search this site and the web: